| | | |
| --- | --- | --- |
| | | |
Published on
July 10, 2012
Family Travel
News & Events
National Editions
Connect
Local
Unplug the Kids in Shenandoah National Park
---
By: Jamie Clark
Jamie Clark
When I first heard about the "unplugged" vacation package at
Shenandoah National Park
, I immediately knew it was something we needed. Not that my kids are necessarily plugged-in all day long, although they do love to watch a little TV and play with their DS. And, I happen to spend quite a bit of time online myself (occupational hazard). So really, the only way to get away from it is to leave it all behind and head to the mountains. Which is exactly what we did.
Our unplugged vacation brought us to
Big Meadows Lodge
, located along Skyline Drive in the beautiful Shenadoah National Park. This is about as family-friendly as you get. The package includes lodging for 2 nights, breakfast and dinner for the kids, a Scavenger Hunt Adventure Book, and tickets to
Luray Caverns.
From the moment we arrived the staff and park rangers were gracious and welcoming, and we knew the next few days were going to be relaxing and fun.
This is the type of place you go where you don't plan on spending much time in your hotel room. We literally threw our stuff on the beds and went out exploring. From the Visitor Centers to the trails, it is all way too inviting to sit inside all day long! Although there was a playground just a short walk from our room, our kids were much more intersted in hiking the short trail to the top of the mountain for panaramic views of the valley below and exploring the section of the Appalachian Trail that crossed through at the top of the mountain.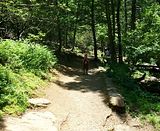 In addition to exploring and hiking, we were on a constant look out for wildlife. We saw more deer than we could count, plenty of chipmunks, and even a mouse along the the trail darting in and out of its natural, rock home. And, the absolute highlight was when we were leaving the park and driving down the mountain. A bear cub crossed the road in front of our car, turned to look at us, and then hopped the guard rail and continued on his merry way. My kids were so thrilled to see a real, live bear!
The education my children got is priceless. My 5 year old really understands what a valley is now. We learned about forest fires because we could see one burning on a nearby mountain top. We talked about hiking the Appalachian Trail and what it is like to backpack long distances. (My kids have now decided that they want to hike the AT as soon as they are old enough!) And all the while my kids never said they were bored. They never asked to watch TV or play video games. In fact, I don't think we had one instance of them fighting or bickering with each other! Trust me, with a 7 and 5 year old that's a pretty big deal!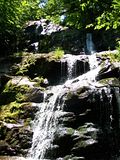 If you can make your way to Shenandoah NP for their unplugged vacation deal for families, I highly recommend it. And, if not there, I strongly encourage you to find a National Park nearby and create your own unplugged getaway as soon as possible. My kids are already asking when we get to do it again!

The author and her family were guests of Shenandoah and were treated to a 2-night, unplugged vacation package for the purpose of this review.