Invariably, when I mentioned that we were considering an RV trip, I received one of two reactions: "I've always wanted to do that" or "we did that and it was the best trip our family has ever taken."
Last summer we decided to find out why. In late August, my family of four headed out in a 35-foot Winnebago Motorhome to visit three campgrounds across Maine. Here's what we discovered.
It's the People
One of the things I hear from my RVing friends is about the people you meet and we learned that lesson within minutes of pulling into the Beaver Dam Campground in Berwick, Maine.
Proprietors Shelia and Michelle are on-site and bring hospitality to a whole 'nother level. Need help backing into your site? They are there to direct. Don't have the proper electrical hook up? Well, if you can't borrow one from a neighbor (we did), they'll pick one up for you at the store that night. Need marshmallow sticks, coffee filters, or someone to walk you through your first time emptying the tanks (yes, those tanks)? They are there.
Beaver Dam prides itself on three things: being clean, quiet and family-friendly. Oh, and their brand new, well appointed, sparkling clean shower house. They are all of these and more.
We spent our first two vacation days sticking close to the campground, located on the edge of a large, swimmable pond. We borrowed stand-up paddle boards and water bikes to explore the spring-fed pond, made dinner over the fire, chatted with our new neighbors and helped Maddie "mine for gems."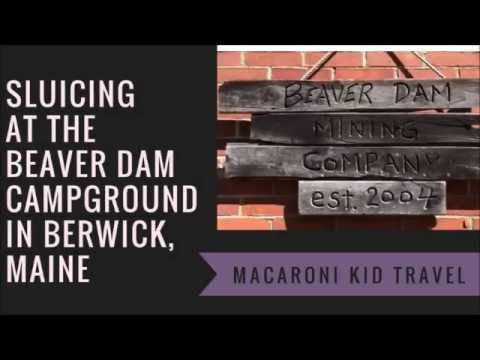 ​
It's the Cure for Nature Deficit Disorder
Nature Deficit Disorder is a phrase coined more than a decade ago by Richard Louv in his book Last Child in the Woods. In it, he posits that not spending enough time in nature is bad for all of us, especially for kids. Smuggler's Den Campground in Southwest Harbor, the second leg of our journey, put us right into the heart of nature, but let us bring all of the comforts of home with us.
While not huge, Smuggler's Den is quite a bit larger and quite a bit busier than Beaver Dam. That's no wonder, because the campground abuts Acadia National Park and boasts more than two dozen hiking trails, accessible directly from the campground property.
We arrived around 2:00 and parked our RV -- now christened Daisy -- in site 89. Pros now, we took just 20 minutes to hook up, expand the sliders, grab a trail map and head out on our first family hike up Mansell Mountain. "How far is it?" both kids asked with a note of trepidation.
"Only about a mile," Eric responded. Turns out, it was more like two miles. Okay, maybe a little more than that, and about half was steep and rocky.
"This is fun," our teenage son commented near the top. "It's like a puzzle to figure out where to put your feet, kind of like skiing." And that's the highest praise he's got.
Two hours. Zero complaints. Gorgeous views. One for the win column.
By the time we got back to camp, it was just after 6:00 and our plans to hop on the free bus that leaves the campground hourly for Southwest Harbor seemed way too ambitious. Instead, it was gourmet hot dogs and homemade ice cream at Mainely Heaven, located at the entrance to Smuggler's Den, for dinner.
The next morning we boarded the free bus for the 20-minute ride to Bar Harbor. Brunch was followed by an hour exploring this lovely tourist town. We grabbed the return bus and hopped off at the trailhead for Acadia Mountain. A short hike of less than a mile delivered spectacular summit views and we sat for close to an hour, talking, relaxing, posing for photos and taking in the view from all sides. 
The best thing about Smuggler's Den is its ready access to dozens of Acadia trails. To be able to hike out right from your RV to this …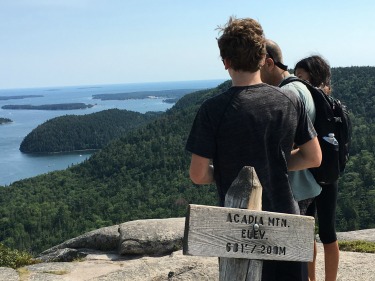 ... was amazing.
It's the Family Time
By the time we arrived at our final stop at Red Apple Campground in Kennebunkport, we were in a groove. The RV was feeling like home and within minutes, the Red Apple Campground felt like our neighborhood. "Clean, quiet, relaxing" is their motto – which is true – but their motto should also suggest that this is a campground that immediately feels like home, thanks to the warm welcome of owners David and Jane Berg, and facilities that offer just about everything you could want from home, and then some.
With Dave's help, we hooked up the RV (it was time for a serious tutorial on the black water/grey water situation and he was happy to oblige) and then we headed out with Dave and Jane to explore Kennebunk and Kennebunkport.  
We woke up the next day to morning rain and took advantage of much of what Red Apple has to entertain kids and families. We played air hockey and foosball and board games. By 11:00, the rain had stopped and we headed to the pool for a swim.
The plan was to go to the beach for the afternoon, but by the time the sun came out, no one really wanted to go. I know, a family that didn't feel like going to the beach? But everyone wanted to hang around Red Apple and just be. So we spent the afternoon just being together. I think they call it relaxing -- something that my hard-wired, hard-charging, hyper-connected family is not so good at. But we were learning to slow down, practicing having complete conversations and remembering to look up past the trees to the stars.
We decided to have our final dinner around the fire at our campsite, which was pretty easy with the "lobstah" delivery service Red Apple offers – just stop by the office in the morning and let Jane know what you'd like, and that evening Dave will deliver perfectly steamed lobsters to your campsite in time for dinner. Dinner was topped off by s'mores, s'meeses (s'mores made with Reese's Peanut Butter Cups) and s'moreos (s'mores made with Oreos). We sat around the fire, debated marshmallow roasting techniques, and looked at the stars. No one wanted to go to bed.
"There's nothing like a family sitting around a campfire at night roasting marshmallows and looking at the stars," David offered over coffee on our last morning. "I'm all about modern conveniences and technology, but there is something about a family just being together."
Indeed there is Dave, indeed there is.
***
The writer and her family were guests of Go RVing. Campground fees and use of the fantabulous Winnebago Vista 35B LX Motorhome were complimentary. No other compensation was received and all opinions are that of the writer.