Who doesn't love a good road trip? And what better way to break up the time on the road than stopping to tour, marvel, and explore some of our nation's most interesting roadside attractions? We have rounded up ten of the craziest stops in the U.S. that we think your kids will love.
Planning a visit? Be sure to check out each location's website or social media pages for information on COVID-19 safety protocols and procedures.

Cabazon, California
Cabazon Dinosaurs is a worthy road trip destination in its own right. With over 50 static and robotic lifelike dinosaurs, a dinosaur dig, fossil panning, and access to climb inside Mr. Rex all the way up to his mouth, this iconic location is so much fun it was even featured in the movie Pee-Wee's Big Adventure.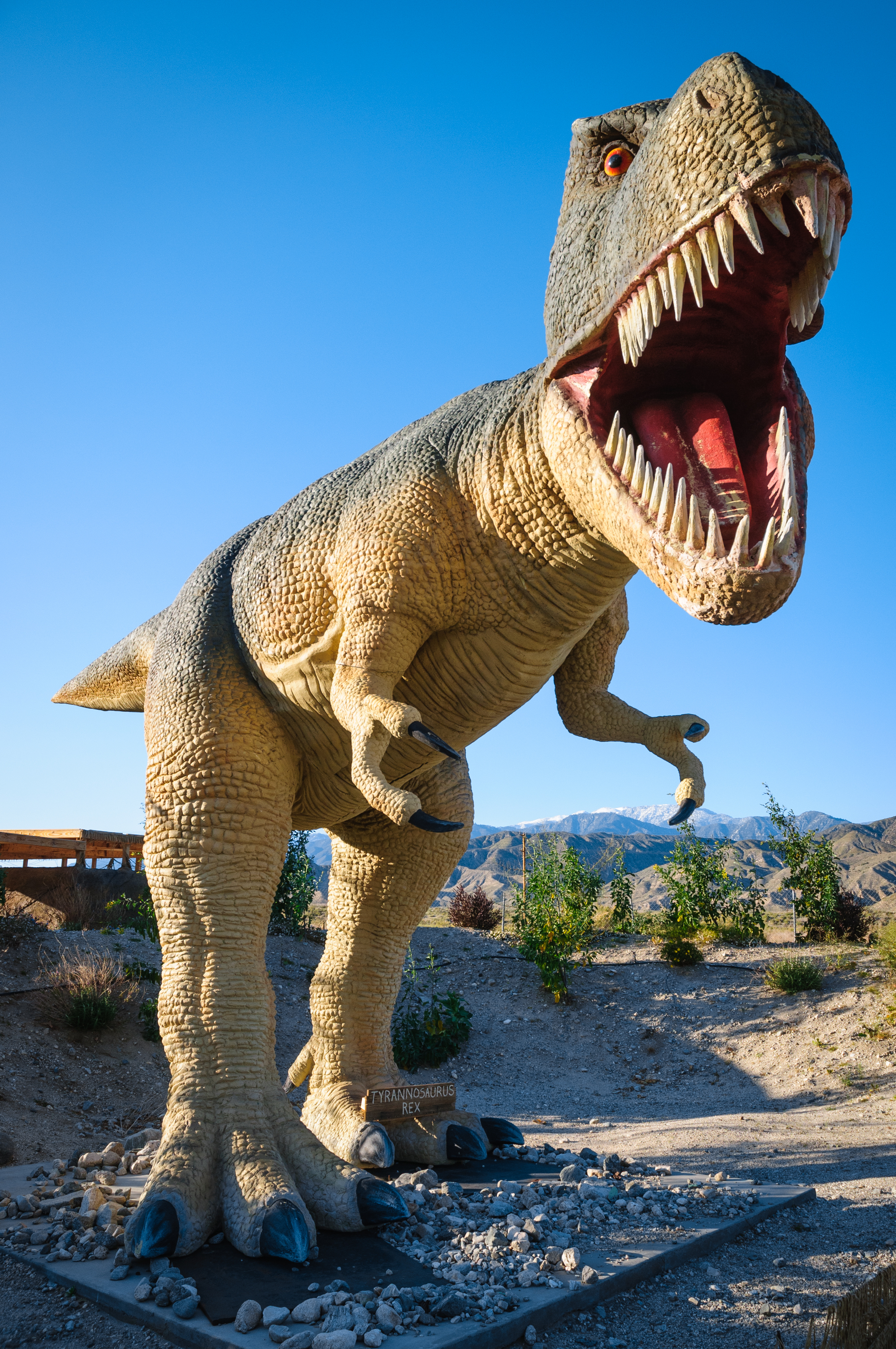 Photo Credit: Adobe Stock

Casey, Illinois
In Illinois, you can visit a town filled with some of the world's largest items. According to the Guinness Book of World Records, you will find eight of the world's largest fully functioning items here, all designed by the workshop Big Things in a Small Town.
You'll find the world's largest mailbox (measuring 5,743.41 cu ft), the world's largest clogs (11 ft 5 in long), the world's largest pitchfork (61 ft 2 in tall), the world's largest rocking chair (56 ft 1 in), the world's largest golf tee (30 ft 9 in tall), the world's largest knitting needles (13.75 ft long), the world's largest crochet hook (6 ft 1.5 in long) and the world's largest wind chime (42 ft tall).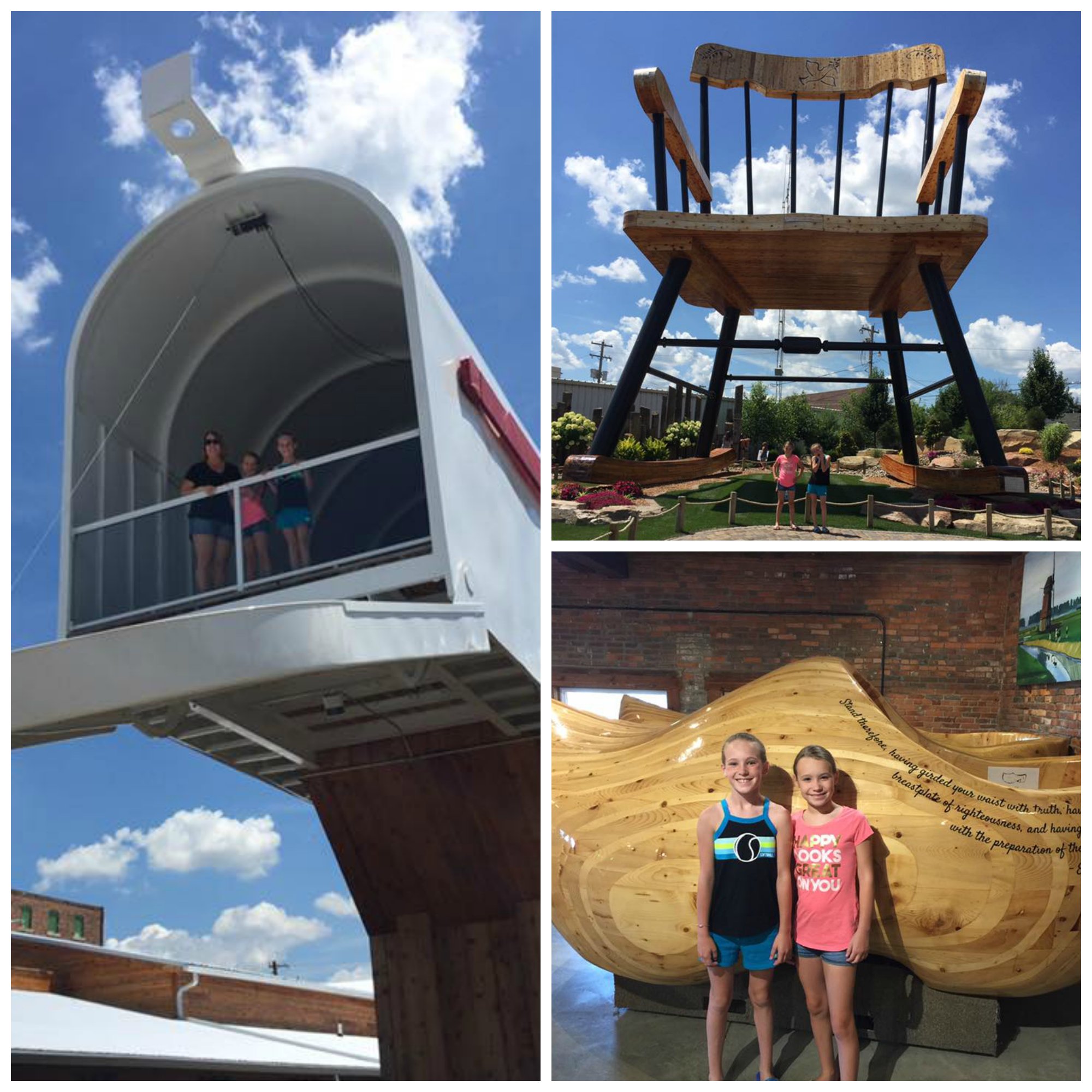 Photo Credit: Eric Ivie

Alamogordo, New Mexico
PistachioLand is home to the world's largest pistachio, erected to honor the founder of the property's farm, Thomas McGinn.
"The bountiful orchard proves to be an educational and fun stop that's perfect for any age," says Allendale, Mich., Macaroni Kid publisher Toni Garcia. "This 111-acre farm features more than 12,000 pistachio trees, more than 6,500 grapevines, a motorized tour of the land, exclusive wine tastings, on-site winery, homemade baked goods, and of course, a 30-foot high pistachio."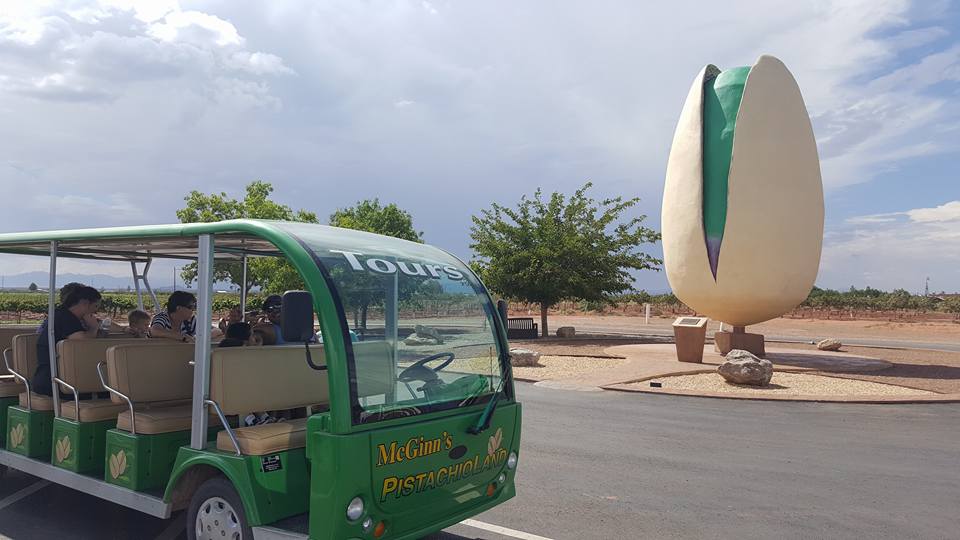 Photo Credit: Toni Garcia

York, Pennsylvania
As you're driving through Pennsylvania admiring the green farmland, you may be surprised to stumble across a large shoe. The Haines Shoe House is a 25-foot, 5-story, shoe-shaped historic landmark located in York County. In 1948, this house was built for a shoe salesman with a living room in the toe and a kitchen in the heel.
York, Pa., Macaroni Kid Publisher Jessica Miller says the Haines Shoe House is a must-see when traveling through the area. "It is a fun place to get out and stretch your legs, snap some pics, take a tour, and indulge in some delicious ice cream and treats sold in the shoe's instep," she says.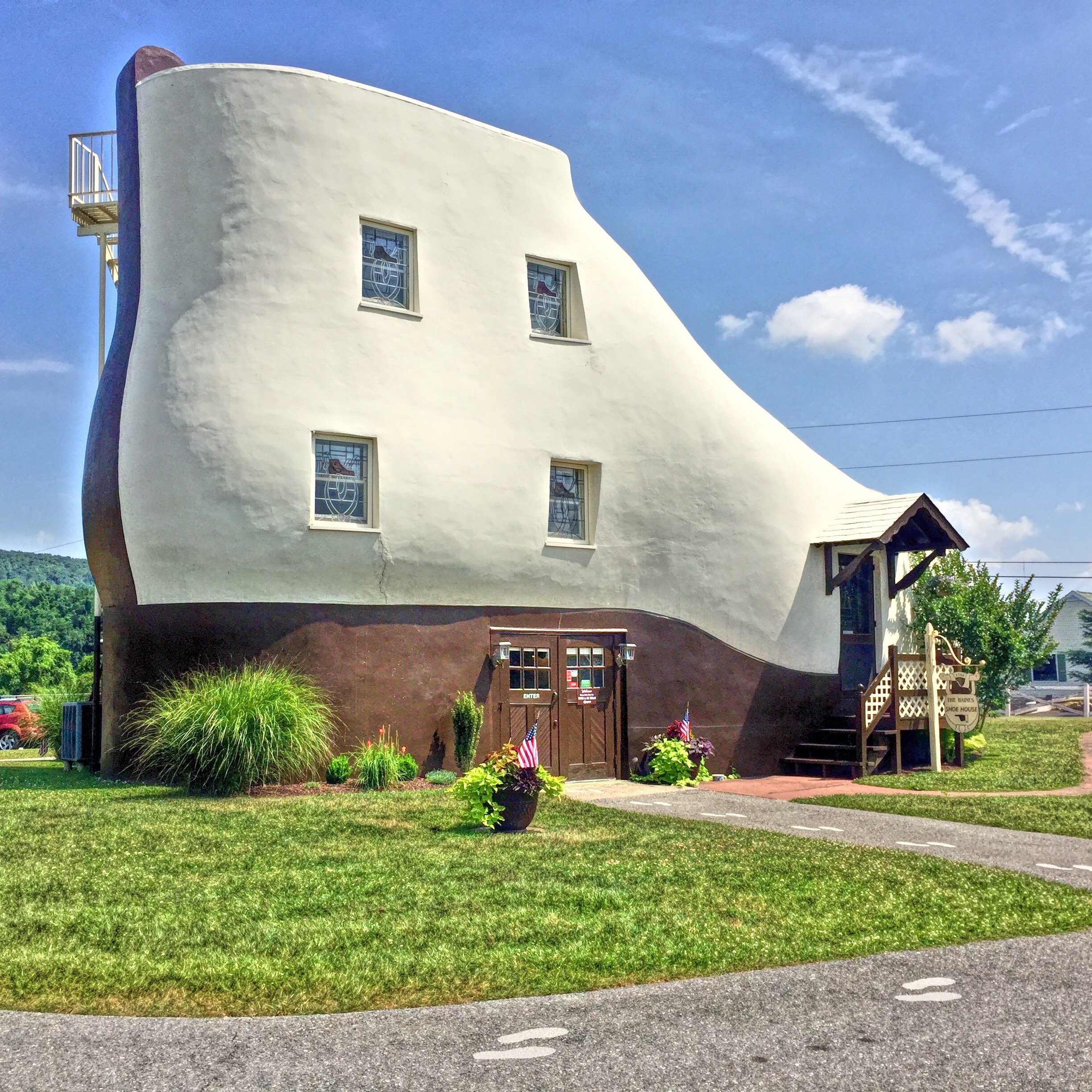 Photo Credit: Anna Hall

Flanders, New York
One of Long Island's most famous roadside attractions is The Big Duck. Built in 1931 by a local duck farmer, it was originally used as a shop to sell ducks and duck eggs. It was added to the National Register of Historic Places in 1997. Today, the big duck is a popular spot to stop on the way out to the Hamptons, and inside you'll find all sorts of duck souvenirs.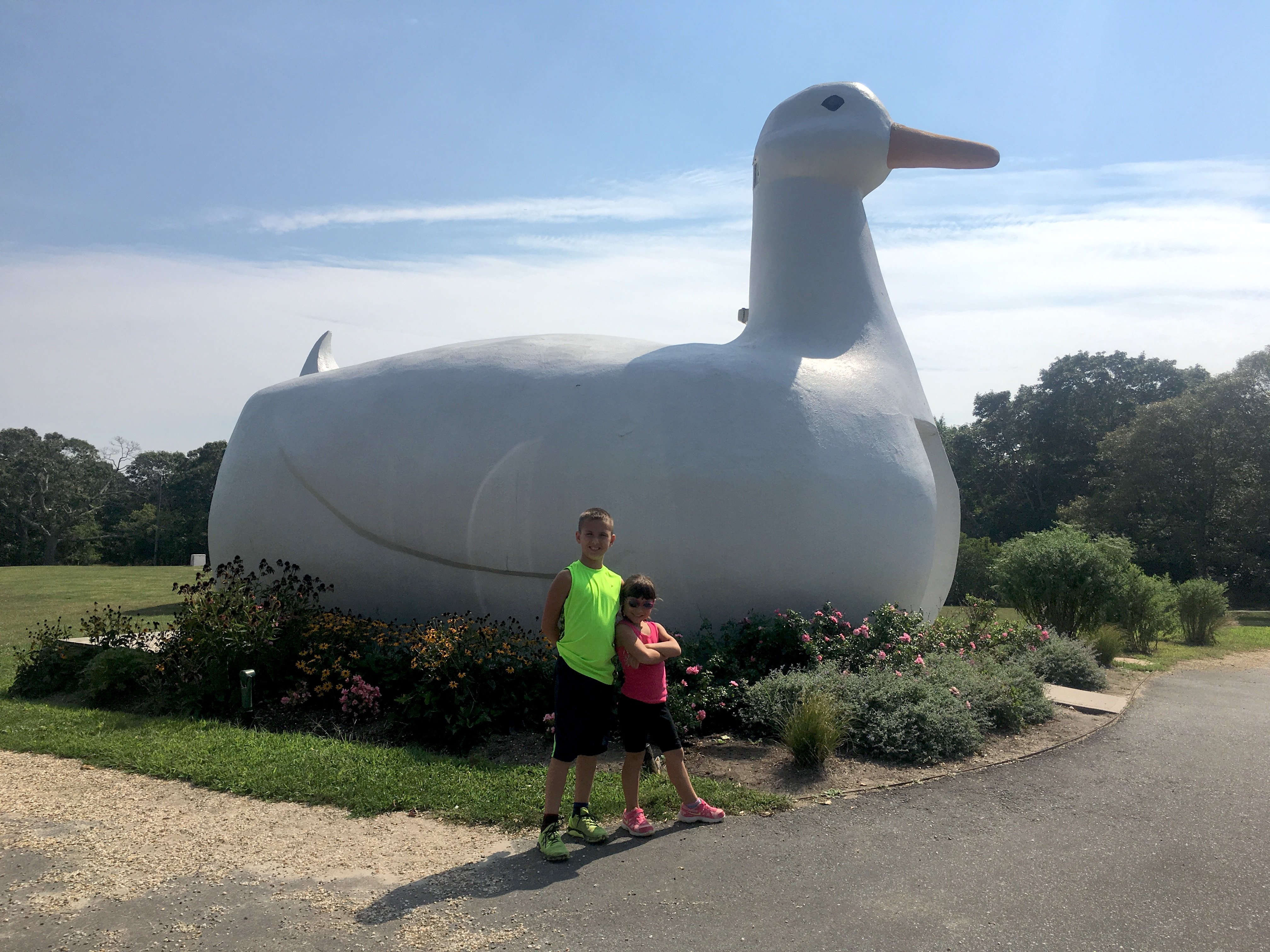 Photo Credit: Michelle Hageman

Mitchell, South Dakota
This historic and architecturally unique structure was originally constructed in 1892 (the current incarnation was completed in 1921) as a palace to prove to the world that South Dakota had a healthy agricultural climate, and also as a place for city residents to gather and enjoy a fall festival celebrating the end of the crop growing season and subsequent harvest.
Today, it attracts more than a half a million visitors annually. And while not actually constructed of corn, the large exterior corn murals are replaced and redesigned each year with a new theme created by local artists.
"The Corn Palace is certainly something you will want to stop to see if you are in the area," says Macaroni Kid publisher Carrie Williams. "They have a Children's Museum on top to play in and they have attractions across the street. The palace smells like sweet kettle corn, of course, and the kids had a great time."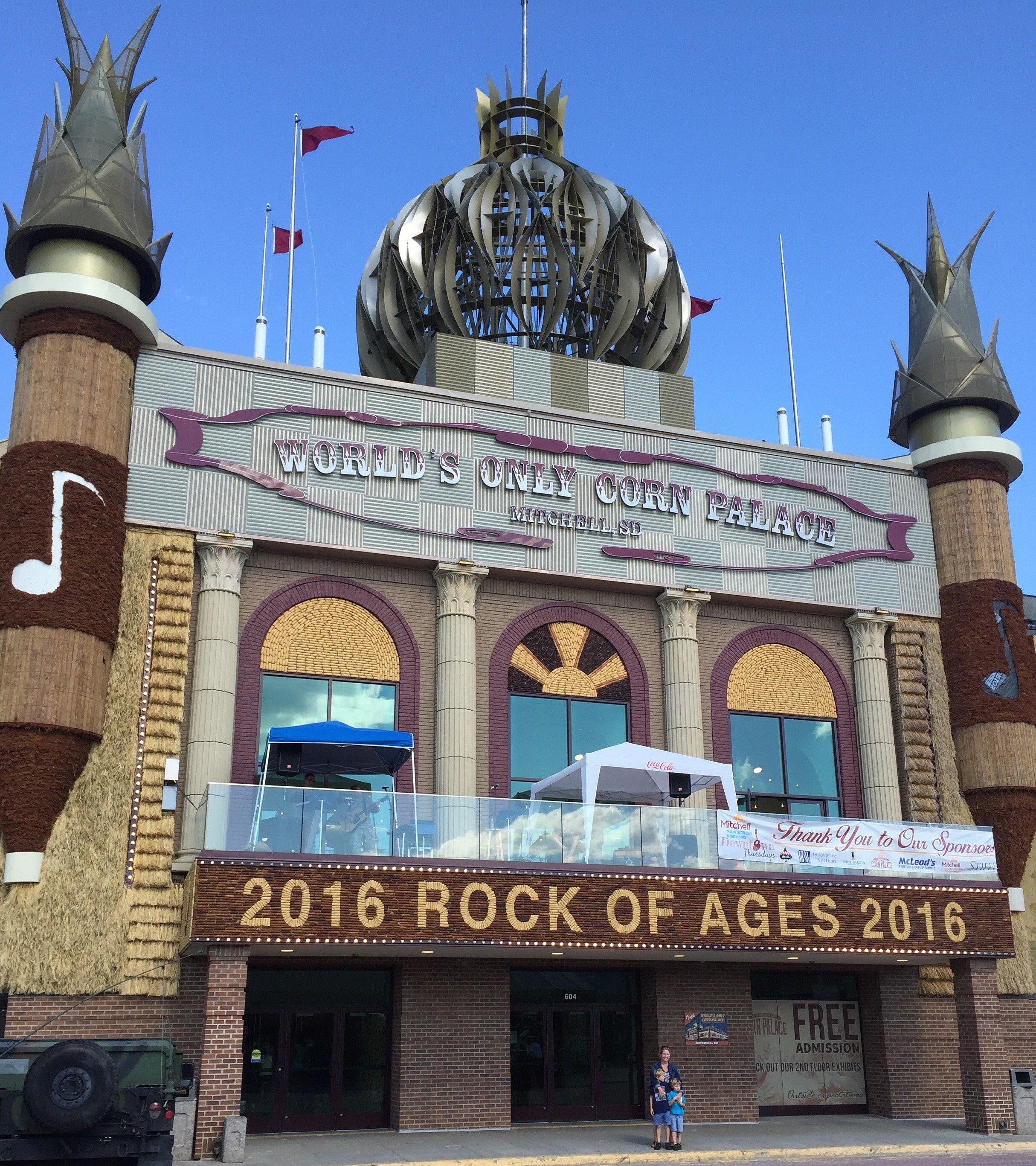 Photo Credit: Carrie Williams

Spring Hill, Florida
Weeki Wachee Springs, a 538-acre state park is home to a "City of Live Mermaids." Since 1947, the Mermaids of Weeki Wachee Springs have been enchanting audiences from around the world. Today, the park has a 400-seat underwater theater where visitors can see the world-famous mermaids perform a live version of Hans Christian Andersen's "The Little Mermaid."
In addition to the mermaid show, admission to the park includes access to the Buccaneer Bay Waterpark (the only spring-fed water park in the state of Florida, featuring four water slides, three of which drop you off in natural Weeki Wachee Springs), a wildlife show, and riverboat ride. Visitors may also rent a kayak or a canoe to paddle down the pristine Weeki Wachee River.
Weeki Wachee is such a popular stop that the park warns visitors to arrive early because the park is closed when it reaches capacity (which happens often on the weekends, holidays, and during the summer season).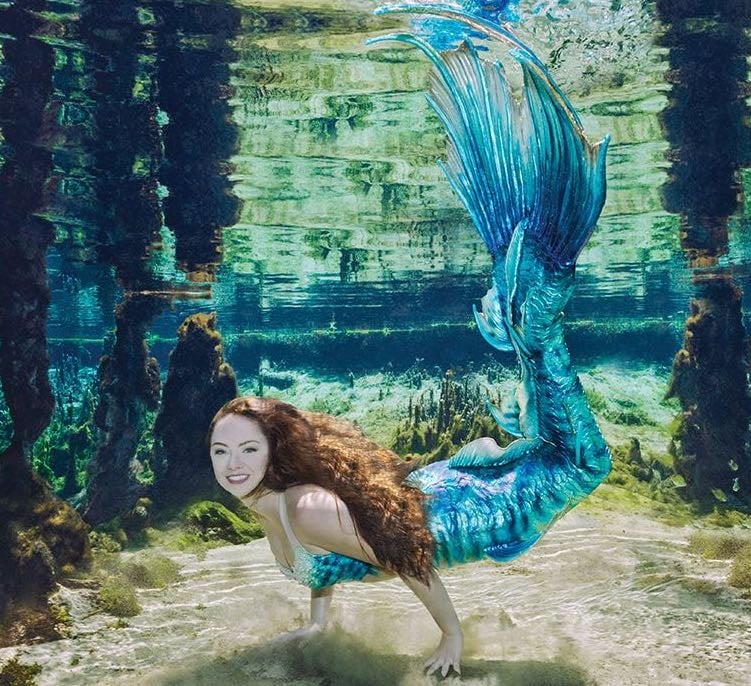 Photo courtesy of Weeki Wachee Springs

Miami, Florida
From 1923 to 1951, a 5-foot tall 100 pound man named Edward Leedskalnin single-handedly (and in secret!) moved and carved over 1,100 tons of coral rock in order to build a castle for his bride-to-be. Sadly, she never arrived. To this day, his unknown process has baffled not only scientists and engineers, but also musician Billy Idol, who wrote a song about Ed's story and filmed a video at Coral Castle in the 1980s. Today, the castle is a museum and is open to the public for tours. Learn more about Ed's story.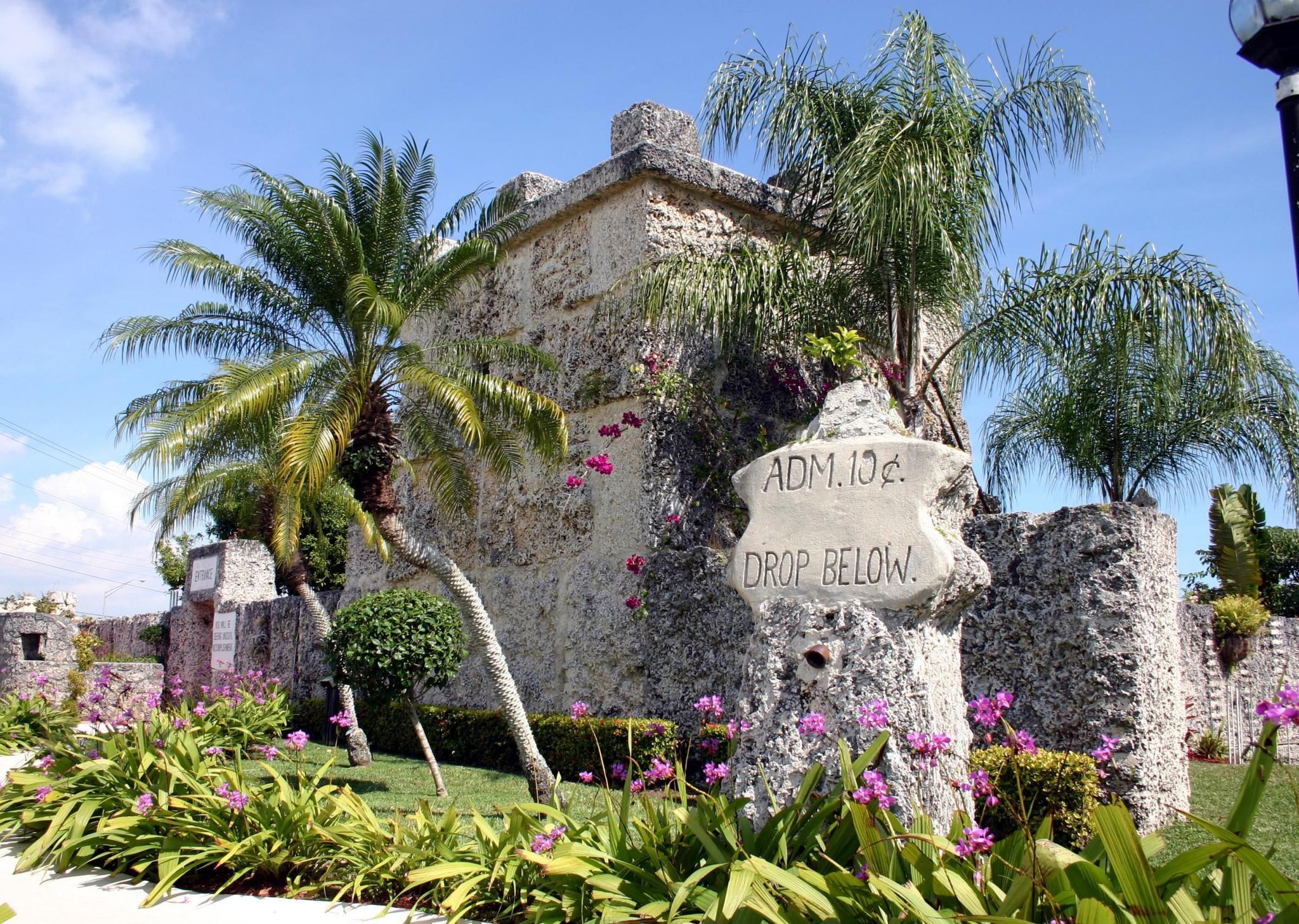 Photo Courtesy of Coral Castle

Northern California
Northern California is home to the largest trees on earth and there are several you can drive through. Three of these drive-through trees are located along the "Avenue of the Giants" highway in northern California (US 101): The Klamath Tour Thru Tree, the Shrine Drive-Thru Tree, and the Chandelier Tree in the Drive-Thru Tree Park. The drive-through trees are privately owned and each charge a small fee to drive through. There are several other giant trees both standing and fallen, located in national parks, which visitors can walk through or sit in.
You can also find what the National Park Service cites as the largest tree in the world in the Sequoia National Park (you can't drive or walk through this one!). Named the General Sherman Tree, this giant sequoia is 274.9 feet tall with a trunk circumference of 102.6 feet. How cool would it be to see the largest tree in the world?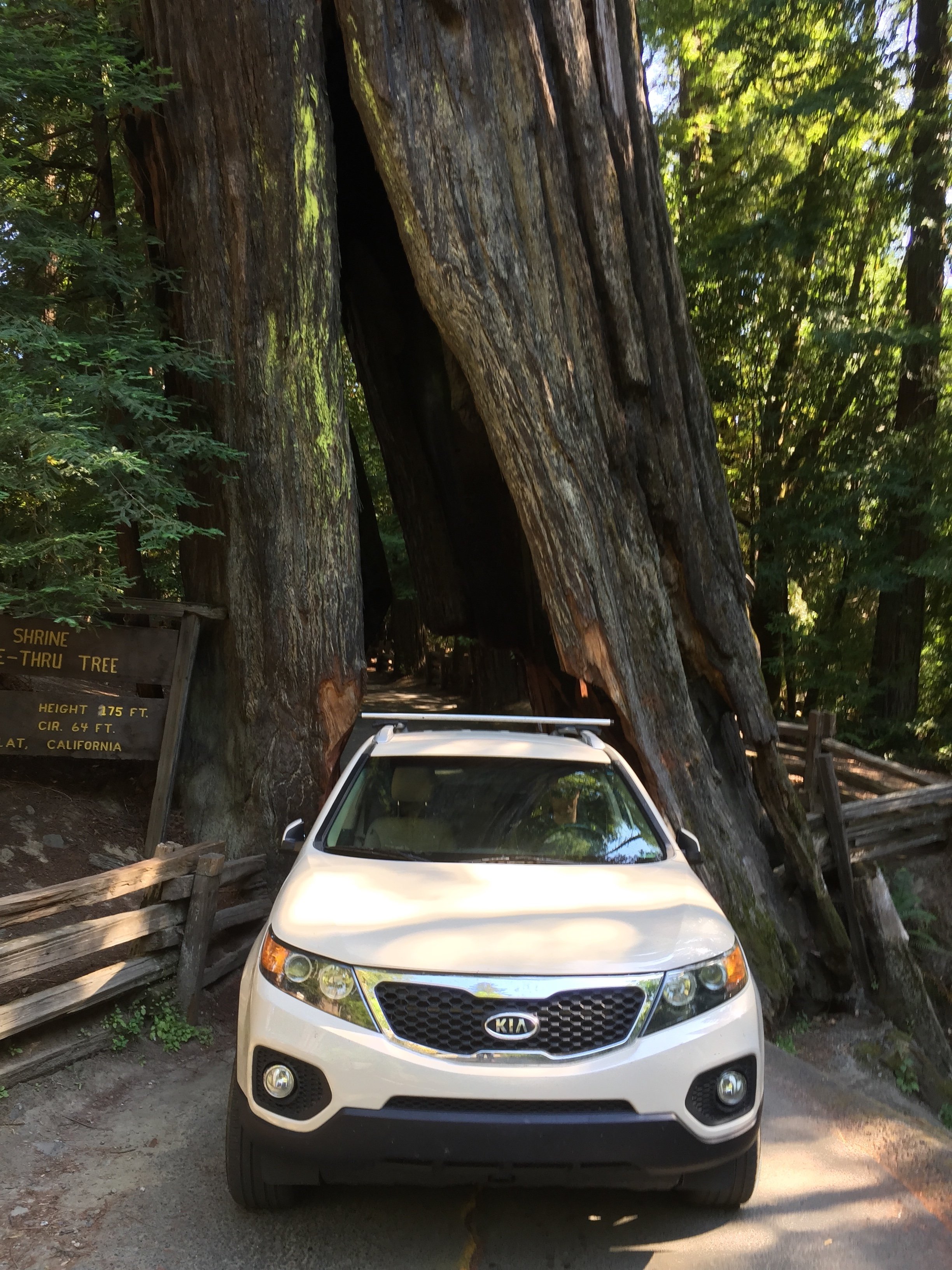 Photo Credit: Macaroni Kid Publisher Carrie Williams driving through the Shrine Drive -Thru Tree

Picacho, Arizona
At the Rooster Cogburn Ostrich Ranch, visitors can feed and interact with ostrich, fallow deer, several varieties of goats, sheep, rabbits, mini donkeys, lorikeets, and stingrays (they claim to be the only place you'll find stingrays in the desert). To feed the goats, visitors can crank food up a conveyor to the goats in a lifted "penthouse." And if you take the 45-minute monster truck tour, visitors can go "ostrich fishin'."
What is "ostrich fishin'" you ask? We wondered too.
Arizona Macaroni Kid publisher Rebecca Eicher told us you fish for ostrich by clipping a piece of fruit to the end of a rope attached to a broom handle. Then you "fish" for ostrich from a dock. (We don't want to ruin the surprise so don't tell your kids!) but kids will be in awe when they notice that the ostrich eyes change color when they swallow their treat.
Rebecca also tells us that this is an operation run by a family with families in mind.
"The owner, DC 'Rooster' Cogburn is still out there every day greeting guests and coming up with new ideas to enhance the children's experience. And, his wife, Ms. Lucille, can be found in the gift shop with a smile. They have the biggest hearts and are in business to make the world fun for families and children."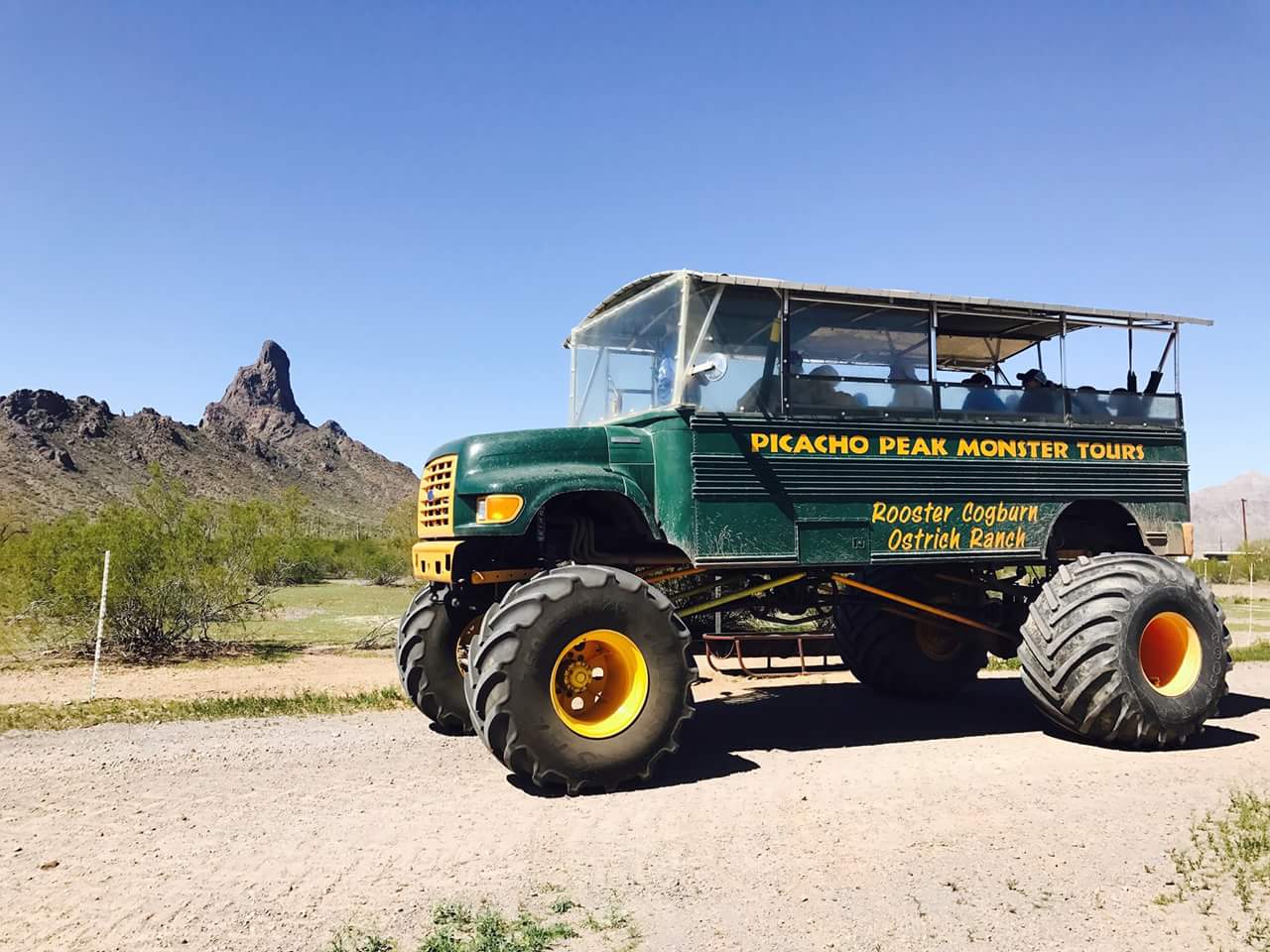 Photo Courtesy of Cogburn Ranch

If you are seeking the unusual, record-breaking, or just plain fun, plan a stop to see one of these (or any other) crazy roadside attractions on your next road trip! Let us know where you've visited by tagging us in your pictures on Facebook, Instagram, or Twitter. Use the hashtag #mackidtravel for a chance to be featured on one of our social media pages.