I'm going to make an assertion that everyone has their Moby Dick, their white whale. Their place or thing that haunts them, calls to them. Sometimes scary, sometimes playfully beckoning. It may be as simple as visiting Wrigley field to watch the Cubs play. Or exotic like dipping your toes in the waters of Tahiti, or visiting Paris and strolling through the Louvre.
 
For me, it's Corbet's Couloir, the famed expert run at Jackson Hole Resort. In nearly 50 years of skiing though, I'd never made the trek. I think part of me has been afraid to visit Jackson and not ski this terrifying, yet seductive slot through the rocks.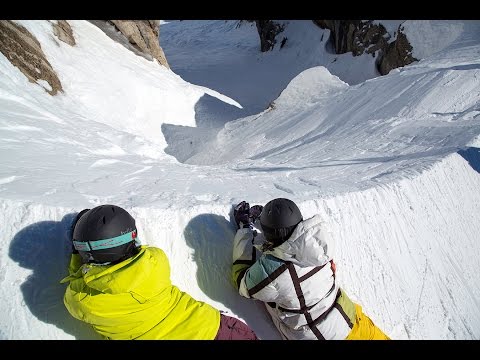 But enough is enough and in one of the snowiest December's on record, I packed up my family and headed west to ski Jackson Hole, mountain of legend. However, this trip was not meant to slay dragons, but to make memories. To experience the hills of the Tetons as a family.
 
I was a bit concerned -- could this land of giants provide fun and sharing for a family? While I enjoy battling double black demons on the slopes, my family prefers slightly less intimidating fare. Would there be enough skiing to keep them entertained? Would they find the whole experience, on-hill and off, intimidating? There was only one way to find out.
 
To make our stay more comfortable, we opted for a condominium at the base of the lifts in Teton Village. The condo was spacious and homey, family friendly for sure. On the way from the airport we grabbed provisions at the grocery store and felt prepared for whatever the next few days would hold.
 
Accommodations with kitchens are the only way to go on a family ski vacation, and ours was fully stocked. At one point I said to Joyce "This kitchen is totally decked out, I bet they even have a pizza wheel!" and sure enough, they did! We were hosted through Jackson Hole Resort Lodging and found the condo to be a great option.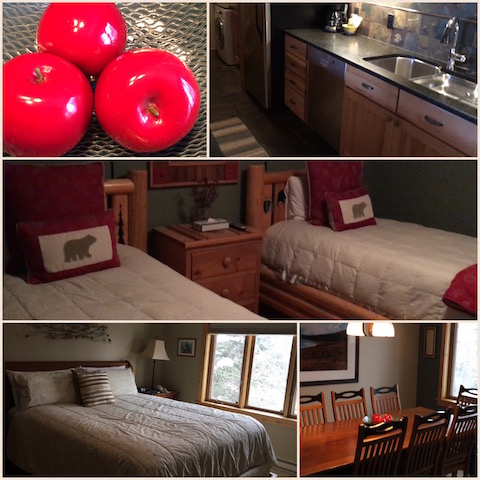 Shortly after arriving at our condo, there was a knock on the door. It was Mountain Direct with our ski rental equipment. They came loaded with skis, boots and poles for the kids. How much was this luxury valet service you may ask? It's actually 20% less when you order in advance via their simple online system…20% less than walking into one of the shops. Remarkable.
 
So far my fears of intimidation and stress were proving to be completely unfounded. But would they come to pass once we were on the mountain? The next morning would be the test.
 
Fully fed with a big home-cooked breakfast in the condo, we shuttled over to the base area (since it was early in the season, the Union Pass lift wouldn't open for a few more days), and met up with Roxy, Maddie's ski instructor for the morning. She quickly put Maddie at ease and off they went, and the three of us were off to explore.
 
Let's just begin with the fact that Jackson Hole is huge. There's more than 4,000 feet of vertical from top to bottom, nearly 1,000 more than famed Aspen mountain. And there's 2,500 acres of in-bounds skiing. Now factor in that 40% of the trails are intermediate and 10% are for beginners, meaning roughly 1,250 acres are perfect for families. To put it in perspective, that's about the same amount of terrain as all of Mount Snow and Stratton combined…two of Vermont's bigger ski mountains.
 
We found the Teton lift to offer great terrain for us. The trails were groomed nicely and, with big smiles, we ran laps on The Crags to Moran. Cruising the wide open blue runs was so much fun that I nearly forgot about Corbet's Couloir. We had a few more days, it could wait.
 
As the day wore down, we met up with Maddie and heard all about her day of fun (and learning) with Roxy. Since the skiing at Jackson is so amazing, the ski school attracts some of the best ski instructors in the world, and I'd include Roxy in that group.
 
Our first day of the season certainly worked up an appetite for us, so we hit the road. Well, the Q Roadhouse to be precise. Just down the road from the resort, this dining spot is everything you want in a ski town restaurant. It's casual, with good food and beer. Before we placed our order, the kids nibbled on the peanuts and carefully piled up the peanut shells on the table. When they asked our waiter what to do with them, he simply swept them off the table and onto the floor…just what they do. My kids gleefully threw their shells on the floor from then on. The menu is simple with traditional, casual fare, such as burgers and buffalo wings, but there are also things like the Korean breakfast bowl if you are feeling more adventurous. The beer is brewed on-site and we sampled a refreshing tasting of IPA's.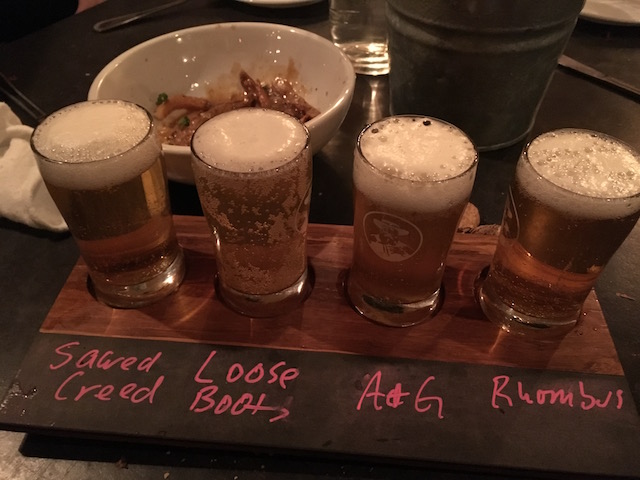 The next day dawned crisp and cold, but it was opening day for the brand new Sweetwater Gondola, and the cold would not dim the enthusiasm of the crowd gathered for the celebration. This lift was added to move more skiers out of the base area and up on the mountain, and it offers direct access to the new children's ski school facility right at the gondola mid-station. Plus it has the benefit of being warm on a brisk day (OK, it was about 3 degrees!).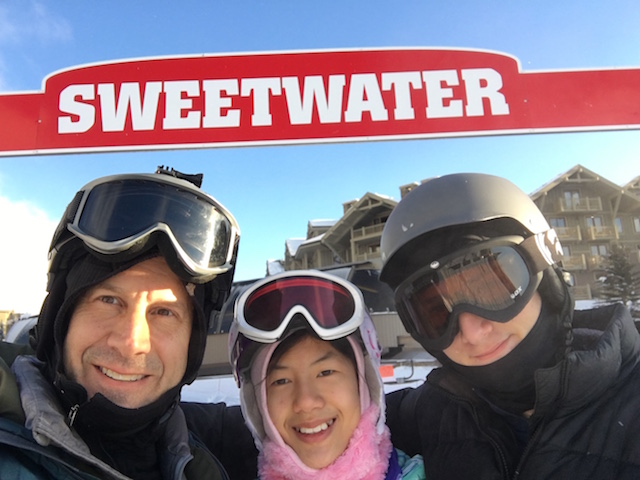 But we bundled up and had Roxy back to ski with the whole family. She guided us around the mountain and we hit terrain we hadn't seen at all the day before. And finally, it was time. Roxy and I were off to tackle Corbet's. To do so we had to take the famous Jackson Hole Tram, traveling the entire 4,000 vertical feet from top to bottom. As we rode, my heart pounded. Would I be able to slay the beast?
 
As we unloaded up top Roxy said, "Where do you want to ski?" Casually I said, "How about Corbet's?", trying to keep my voice from cracking. To my surprise, Roxy said, "Oh, it's not open yet. We need another few feet of snow, hopefully by Christmas". And then the pressure was off. We skied a grueling run from top to bottom, finding pockets of fresh snow and slaying dragons nonetheless. It was amazing.
 
Back with the family, we capped off the day with dinner near the top of the mountain at the Piste Mountain Bistro. There's something very special about riding the gondola after the mountain has closed and dining at nearly 10,000 feet. I can't recommend it strongly enough.
 
For our last day, it stayed cold and we wanted to explore the area off the slopes so this day was all about adventure away from the skiing. And what's more adventurous than a safari!
 
You may be thinking "What? Africa?" Nope, Jackson is home to some big game and our guide, Jody, with Jackson Hole Wildlife Safaris knew where to find it. We jumped in Jody's luxury SUV and off we went in search of game. First up, the Jackson National Elk Refuge to see…wait for it…elk. And we sure did, for those who have never seen an elk, they are big. Like a giant deer on steroids, the bulls can weigh over 700 pounds.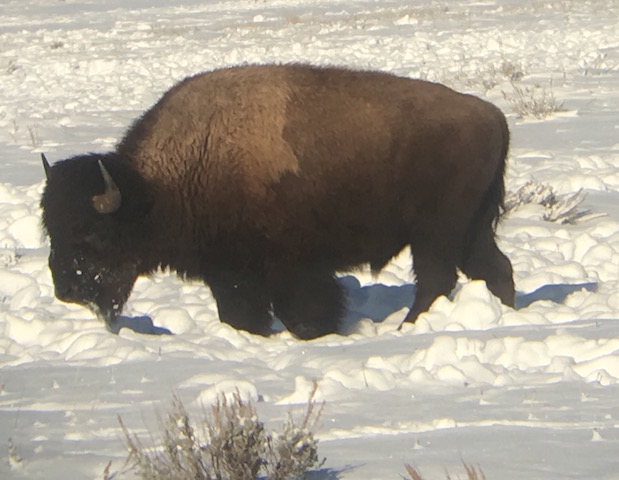 As we continued through the Refuge, we saw something even bigger, massive bison, or buffalo as they are commonly called. We saw dozens meandering through the snowy grassland and watched in awe as their breath steamed out.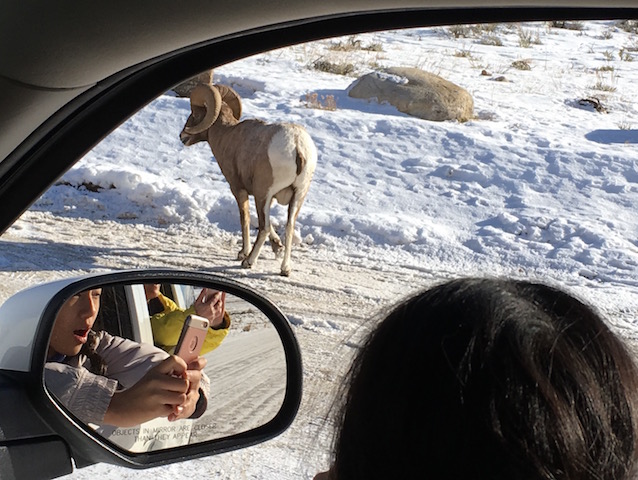 As we left the refuge and went further into the backcountry, Jody spied a bighorn sheep standing like a sentinel atop a ridge. It was like the big ram was posing for us. And then we came across a family of them right by the road. They were close enough to touch and the baby was as cute as a button. Continuing along, we saw a couple of moose, a rare cross-fox with its unique grey coat, and last but not least, a black-tail deer. All of this in our 4-hour half-day trip. It was an experience of a lifetime and we were sad to see it end, but more adventures lay ahead.
 
For the afternoon we headed into the famed town of Jackson and to the unheralded local ski hill of Snow King Mountain. This hill is right in town and the (much) smaller cousin to Jackson Hole. We weren't there for skiing, we came for the fun! The area offers some excitement for the non-skier. We tried the tubing (always fun) and the Cowboy Coaster, a mountain coaster that delivers nearly a mile of twisting, speeding fun. Afterwards, we hit Hayden's Post restaurant for their hot chocolate bar. This little concept turns a steamy drink into a decadent concoction. Our kids were in heaven.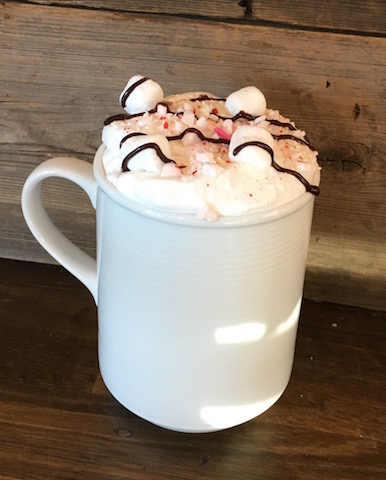 Our day still wasn't done. We had a bit of time to explore historic Jackson. This is a real cowboy town and walking around is a treat. Shops and restaurants abound. But we had plans to visit Snake River Brewing for dinner and a tour. Once again, dinner was just ducky. Burgers were huge and topped to perfection. We went with beef, none of us could try the bison burgers after our morning experience, but I hear they are delicious. There's also pizza and a kids menu. Even the most finicky eater will be satisfied.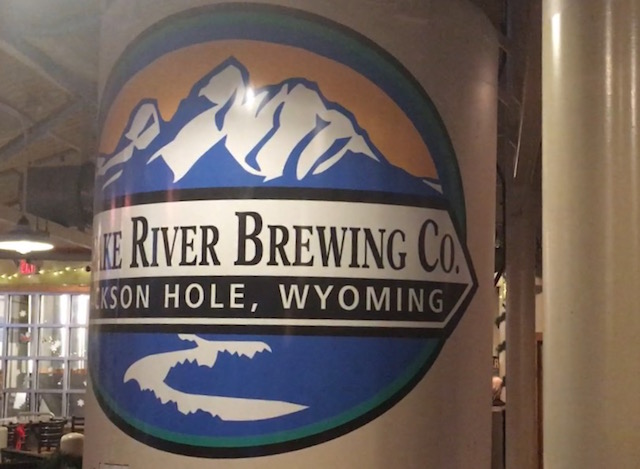 After dinner, our hostess Krissy gave us a behind-the-scenes tour. It was fascinating to hear about the process of making beer and all that goes into it. The brewery is one of the few micro-breweries that can their beer (vs bottling). Krissy explained how it's more environmentally friendly, as it's more economical to ship, and more recycle-friendly, plus it's better for the beer. I agree, the beer was delicious after our day of exploration and adventure, and a fitting end to our time in Jackson.
 
As we packed to leave, I shared with Joyce my sadness of not having faced my great whale, I wasn't able to conquer Corbet's Couloir and ski the run of my imagination. She just looked at me and said, "You know silly, that just means we'll have to come back".