Every now and then, I feel a need to get away with the kids. Royalton Bavaro is a great getaway option as all-inclusive resort set on a beautiful beach with exquisitely turquoise water and white sands. With sunshine year-round, luxury suites, butler service for some guests, and all your meals made, this resort is a no-brainer.
As a mom, I don't want to cook when we go away, I don't want to lift a finger, and I want to know that everyone in my family can find something to do. Since the hotel offers a selection of swimming pools, a lazy river, mini golf, a splash park, easy access to the center of Punta Cana, evening entertainment, and plenty of water sports, and a number of restaurants to dine at, there is so dearth of choice.
Everyone Deserves a Bit of Luxury Every Once in a While
When my family gets away, we like to live it up. Royalton Bavaro, a five-star resort, adopted the concept of "All-In" luxury, which is a reference to the endless standard luxury features and amenities all guests can expect. This includes reservation-free dining; premium drinks and handcrafted cocktails, Wi-Fi connectivity resort-wide, and standard wellness offerings in every room like signature rain showers and DreamBeds. It may not be as five-star as the Four Seasons, but the Royalton Bavaro is luxurious, particularly to an exhausted parent - especially if you upgrade to the Diamond Club, which enables you to enjoy butler service, get your preference on room location, or have an exclusive beach area. Aside from 24-hour room service, there is an abundance of choice and you won't have to lift a finger as a Diamond Club member. I had a butler who made sure that my dinner reservations were made and that all my plans went according to plan. I also had a personal pool outside my room, which I loved.
Where to Rest Your Head
Each room has cable TV, a free minibar that is restocked regularly, and a balcony or terrace so you don't ever have to miss out on the scenic view of sunset or the ocean. The Family Suite is designed for a family, with a king DreamBed, plus a double sofa bed with a sliding door that separates the main guest room for more privacy.
The resort can provide cribs and extra rollaway beds. Bigger families can take a Luxury Junior Suite which offers an in-suite Jacuzzi soaker tub, rain shower, a sitting area with a pull-out couch and great views. Plus, kids are completely safe. Bracelets are worn at all times during your visit and serve as your room key.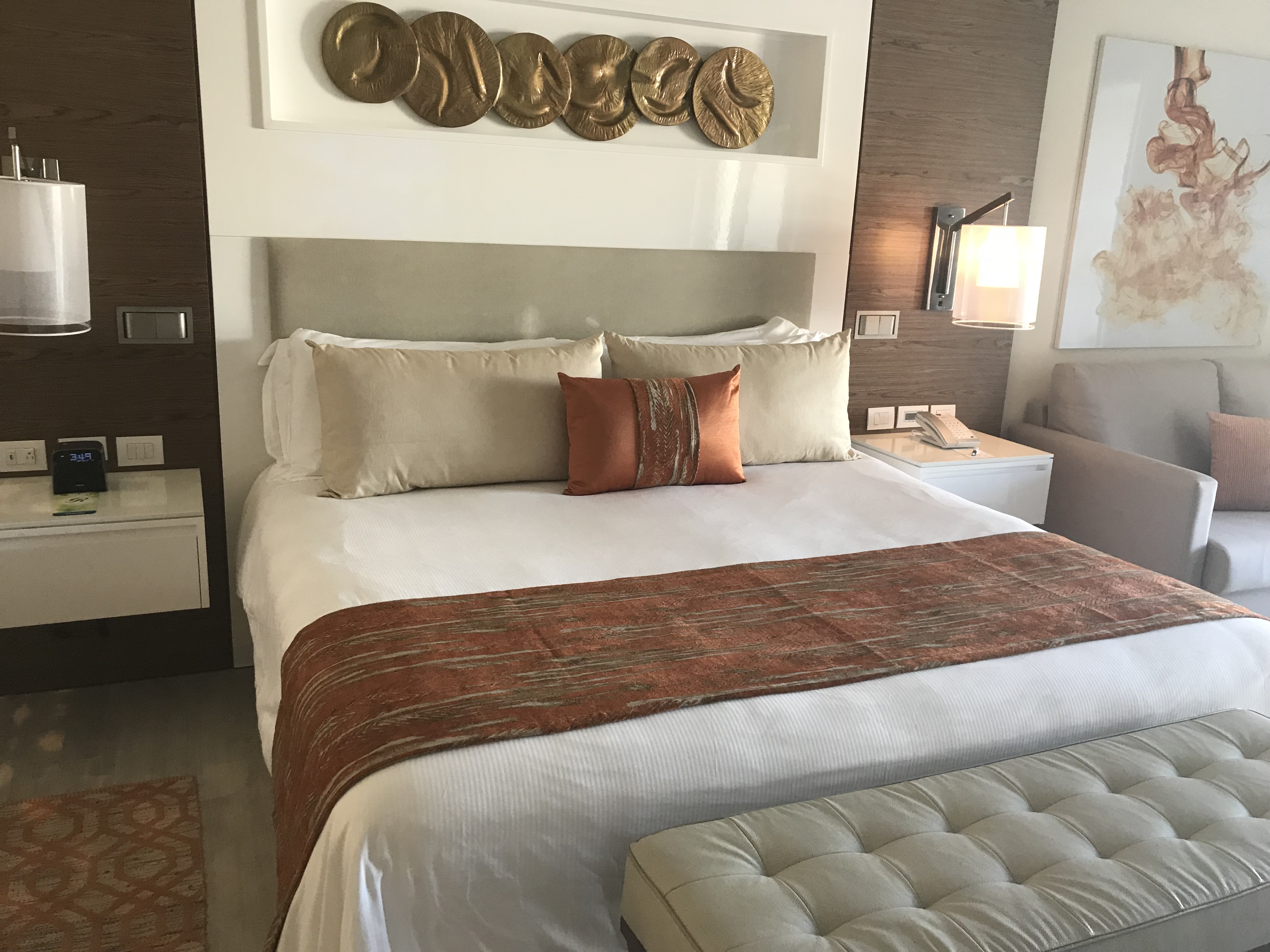 What the Kids Will Love
Your kids will love spending the day in one of the many swimming pools or on the beach. Besides the popular lazy river with own grotto bar, where kids can pull up for a glass of juice or soda, the hotel offers the FlowRider ultimate wave riding machine, a place where kids can learn to surf. They'll also love the evening entertainment, some of which is on the beach. Plus, the beaches are beautiful and truly worth the trip.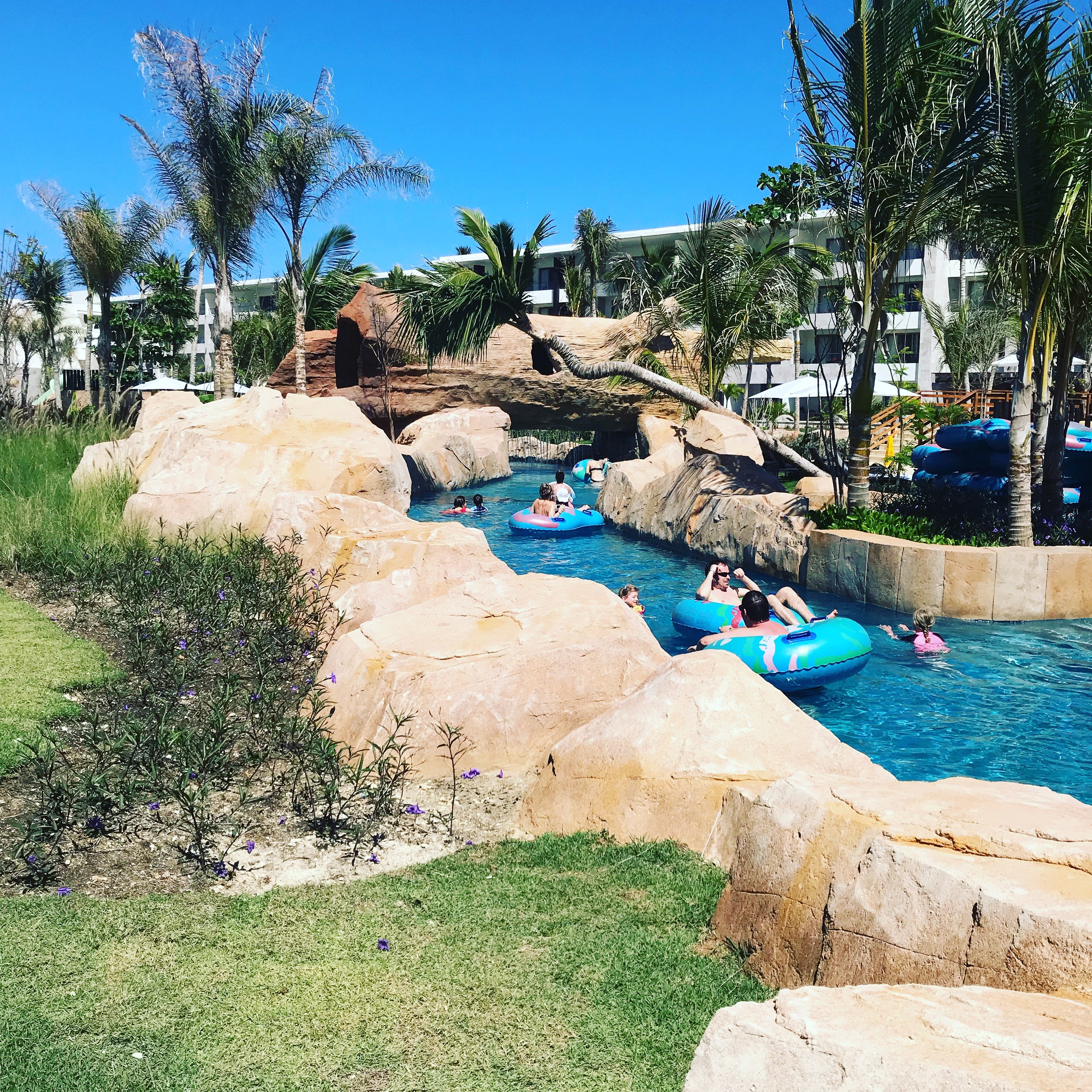 Activities for Everyone
Parents, don't' fret, you have a selection of activities, too. Onsite you have tennis courts, miniature golf, multiple swimming pools, a lengthy lazy river, and if you want time on your own, there's a supervised Kid's Adventure Program for Kids ages 4-12 and Hangout Teens Club for kids ages 13-17. There is also free nightly programming for all ages.
If you want to venture off the island, ask the hotel about booking a sailing trip down the coast of Bavaro. They'll help you book a trip where you can snorkel in the Cortesito Reef and relax in the natural pool.
Or days can be spent wiling by the pool. You need a reservation for the poolside cabanas and they are worth it! There are other adult-only experiences if you can get a sitter or separate from your family for an hour or two. The "Royalton Fit" yoga program outdoor on the wedding terrace is a lovely way to welcome in the day, and the Royal Spa is ideal for a bit of pampering. It has a hydrotherapy circuit and a full range of massage, body, and facial treatments.
A Culinary Exploration with Ample Options
As an all-inclusive resort, Royalton Bavaro provides various options for families to dine. Gourmet Marche' is an international buffet, with both a kid's area and a healthy eating section. Oceanside is the other international buffet. Dinner options are ample, including Hunter Steakhouse, Grazie Italian Trattoria, SCORE Sports Bar and Lounge, Zen Teppanyaki (Asian cuisine), Rio Rodizzo (Brazilian grill), and C/X Culinary Experience (chef's table). Families can also order lunch at the pool or by the beach, or by the Lazy River at an onsite food truck called Bites and Grill. Another family favorite is Zen, a hibachi restaurant, and Grazie Italian Trattoria.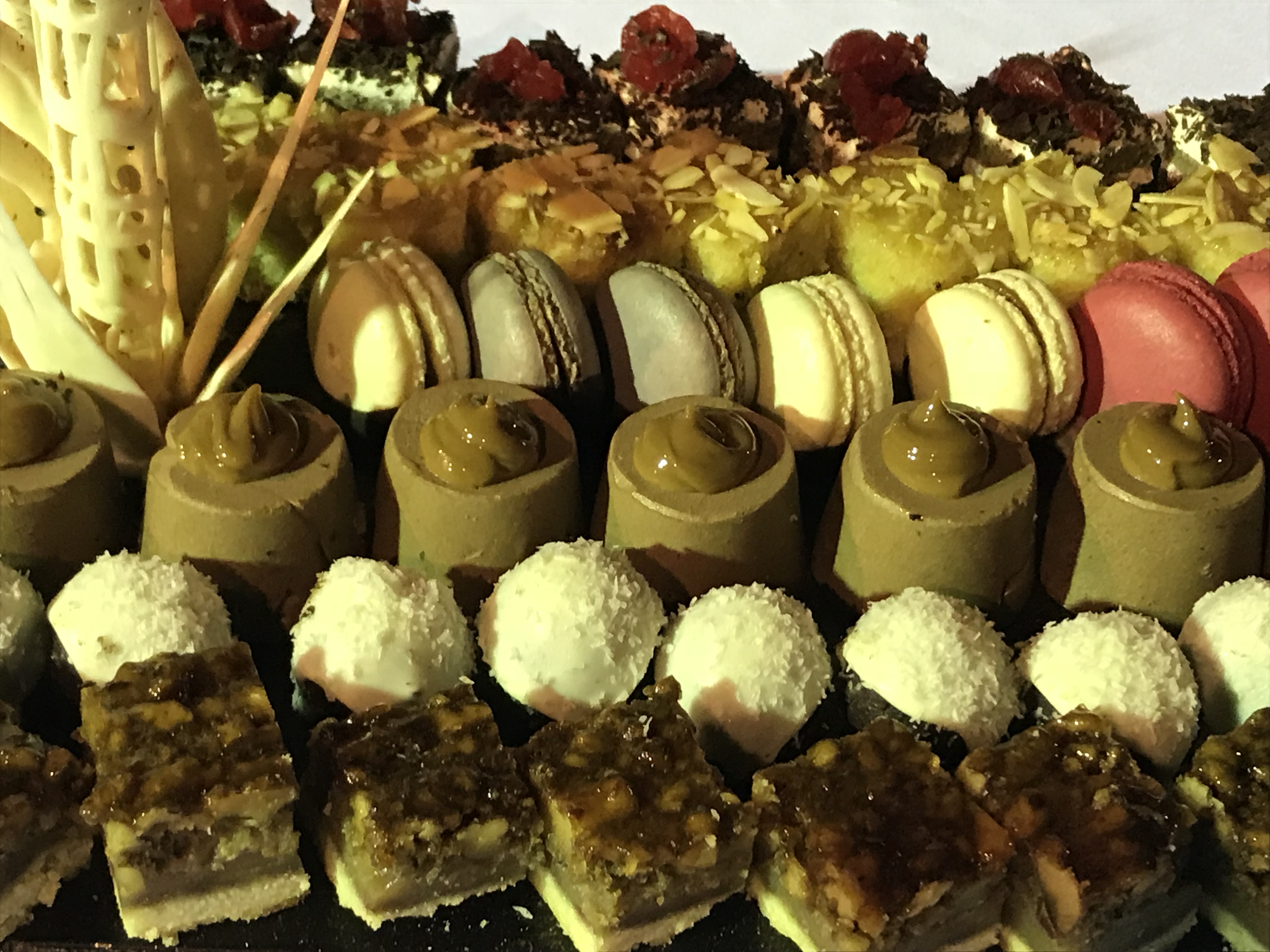 In Conclusion and Tips for the Family Considering the Royalton Bavaro
The Royalton Bavaro may be considered 5-star, but it is also a good value and you can find discounts in advance if you do your research.
For example, they are currently offering a web offer for guests to receive an instant $200 rebate when booking a minimum of four nights — this offer is available now through May 15, 2018. In addition to the instant rebate, Royalton is bringing back their Seaside Culture Camp this summer from June 25-September 4, 2018. This special camp allows children ages 4-12 to join beloved characters Max and Ruby™ and learn more about the country in which they are vacationing through different activities such as arts and crafts, scavenger hunts, nature hikes, and cooking classes.
The writer received complimentary overnight accommodations, food, and a spa treatment in exchange for this review. However, all opinions are her own.