When I told a friend I went skiing with a guide at Breckenridge last winter he said "What? Why would you hire a guide? You were a ski instructor, you can ski anything, you've been to Breckenridge a bunch … why would you do that?"
And I said, "exactly!"
I believe skiing with a guide, even if (especially if!) you are an expert skier, is a great idea.
Breckenridge has put a lot of thought into their guides program, with several options for skiers who have intermediate skills and up. We took part in the "Go Beyond" program for advanced skiers. Here are three reasons why I think skiing with a guide makes a day on the slopes even better:
1. A guide lessens my responsibility, giving me more time for fun.
Deciding where to ski each year falls on me, as I'm the most experienced member of a skiing family.
If I pick a trail that's icy? It's on me.
If I pick a trail that's too flat and boring? It's on me.
Much of determining the family's fun during the ski day falls on me. That's a lot of pressure. But when my son and I skied with our guide, Patrick, last winter, I was relieved of that responsibility.
Instead, my brain was free to soak in the experience and not worry about where to go next.
It was a pleasure.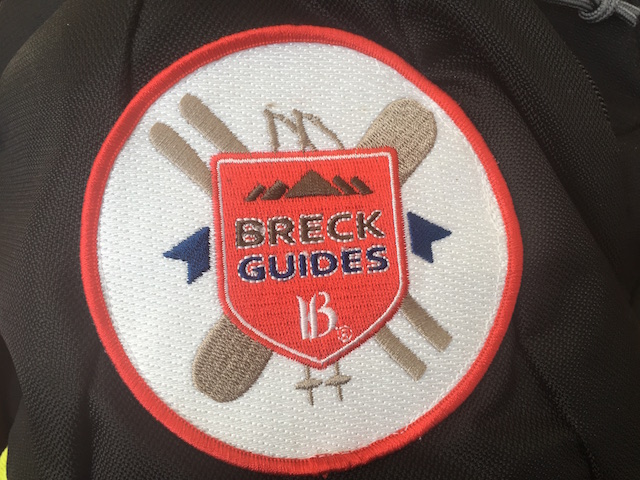 2. Safety first!
Another reason I like a guide? Safety. When I am responsible for picking a trail, I feel like family safety is my main concern and I tend to be conservative.
Our guide, however, while keeping us safe, was able to push the boundaries a bit. He took me and Mason down slopes much more challenging than I would have picked, and I was so proud to see Mason handle the terrain with confidence. Had I chosen those slopes, I'm not sure how he would have skied it, but knowing Patrick thought he could, he excelled.
I've skied Breckenridge many times, but our guide took me to areas I never would have found on my own. We skied fresh snow even though it was several days since the last storm. With nearly 3,000 acres of terrain at Breckenridge, you need a guide to find the best spots.
3. You get the VIP treatment.
We skipped all the lift lines and skied twice as much as we would have otherwise. We also got to begin skiing an hour before the mountain officially opened, which means we virtually had the place to ourselves. Plus, there's a behind the scenes tour of the Ski Patrol operations. This was a neat experience and we were able to chat a bit about conditions and learn about what it takes to keep the mountain safe and skiable. The tour was a unique experience for sure.
Click here for more information about skiing with a guide at Breckenridge.
Our guided experience was courtesy of Vail Resorts for purposes of this review.