As the elevator took off, a young girl's eyes opened wide in anticipation. The sights of the city appeared, and she grinned. Then the doors opened and she turned to her mother.
"Mommy," she said. "I can't wait. This is the coolest thing I've ever done. This is way better than the beach."
Take it from this 5-year-old, Seattle is a city filled with family-friendly vibes around every corner. Our trip to the top of the world-famous Space Needle was only the start of an adventure filled with unique attractions, mouth-watering cuisine, and accommodations perfect for all ages. As one attendant said to us, "We want Seattle to become your home away from home."
---
Please note: This story originally appeared in Macaroni Kid Family Travel in November 2018. As of January 2021, all attractions mentioned in this story remain open, with COVID precautions in place. We urge you to check with locations for the latest information before traveling to that area.
---
Where to stay
The most important decision you can make with any family vacation is choosing your accommodations wisely. Why not stay in the heart of the city with easy access to attractions, restaurants, and the pure magic of the city? Hyatt House Seattle Downtown is the ideal hotel inviting you to relax and settle into your own home away from home.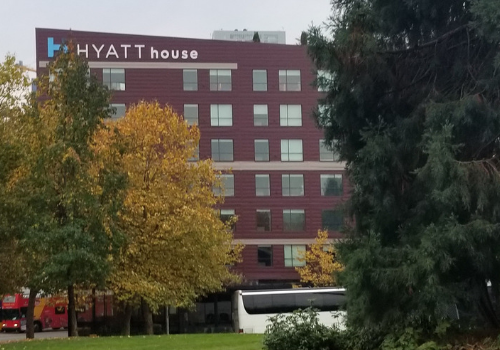 Hyatt House Seattle Downtown delivers on that motto with comfortable and spacious rooms and suites with a divided living and sleeping area (some even have the best view of the Space Needle!). The room comes complete with a sofa-sectional with sofa bed, fully-equipped kitchen, free internet access, 24-hour workout room, and a free breakfast complete with an omelet bar. You can also pick up a snack or drink at the 24-hour market or even have a house host stock your kitchen while you explore the city. Yes, you can fill out a grocery list and they will deliver it for your family later that day!
Not to mention, the courteous staff at this hotel is always ready and willing to make your stay the best it can be! This hotel has thought of everything when it comes to making overnight accommodations welcoming and convenient for families.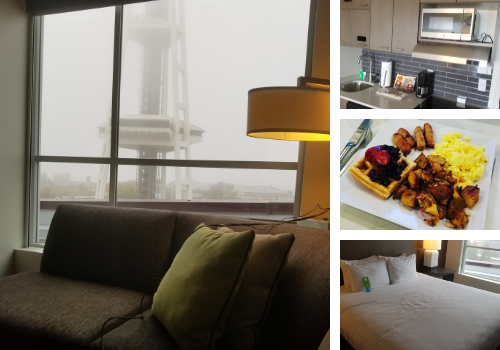 MacKid Travel Tip: Check out the rooftop of the Hyatt House Seattle Downtown to take a memorable selfie of your family with the Space Needle!
What to eat
Seattle is a foodie town. Name your favorite food, and you will be able to find a restaurant in the city that will cater to your breakfast, lunch, and dinner cravings. Whether you make reservations or stop in a local coffee shop or restaurant as you walk, you will find an array of classic and unique dishes that are an institution unto themselves.
For a taste of the ocean, stop by Ivar's for some fish and chips, or get your bit of nostalgia with a milkshake and fries at Dick's Drive-In. If your kids are craving pizza, make plans to stop by Serious Pie for some serious delights. For once-in-a-lifetime tastes at smaller, chef-driven restaurants (perfect for date nights), Chávez and Opus Co. will astound your taste buds. Seattle is also known as the coffee capital of the United States, so you can't go wrong with a stop at coffeehouses like Caffè Appassionato or Caffè Umbria.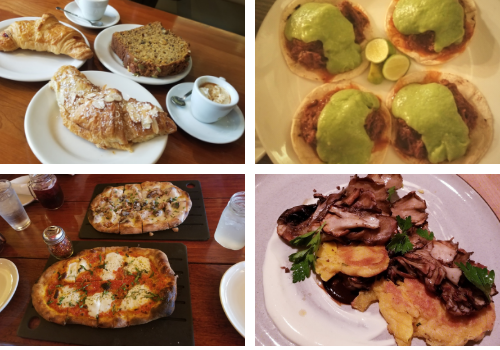 MacKid Travel Tip: Stop by the Dahlia Bakery and devour a piece of the world-famous Triple Coconut Cream Pie. You (and your kids) won't be disappointed.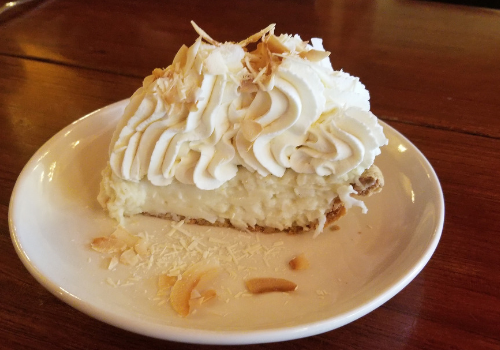 Iconic spots
Seattle is home to some of the most beautiful and iconic attractions, perfect to check off the family bucket list. Pike Place Market, the beloved downtown and historic market area, has everything from the first Starbucks location to the famous flying fish. You can also walk over to the Seattle Great Wheel on Pier 57 for a fantastic ride right on the waterfront. For the best view of the city, the Space Needle provides a 360-degree view. Purchase your tickets and travel up the fast-moving elevator to take in the sights at over 500 feet up. For those brave enough, you can step out onto the revolving glass floor!
If you want to be in awe of colors and art, the Chihuly Garden and Glass is a vibrant spot; a colorful feast for the eyes. Want a fun way to travel? The Seattle Center Monorail runs from Seattle Center to Westlake Center and offers an exciting (and affordable) ride that can take you to a host of memorable city experiences. The Monorail even runs right next to the Hyatt House Seattle Downtown!
MacKid Travel Tip: Looking for an iconic Seattle souvenir? The gift shop at the base of the Space Needle has hundreds of items to choose from.
For the family
Seattle is known for having some of the most beautiful landscape in the Pacific Northwest, including a variety of majestic sea life, just minutes north of Seattle. The Puget Sound Express offers half-day whale watching tours where you can relax on a large boat and travel out to see orcas, humpback whales, and other marine life. These tours are a once-in-a-lifetime experience for kids and adults.
Back on land, The Seattle Center is also an ideal location for families to experience the best attractions the city has to offer. Right by the Space Needle, the area is home to the Museum of Pop Culture, the Pacific Science Center, and the Seattle Children's Museum. You can spend the day and walk between the attractions. The best part is that all the Seattle Center attractions are across the street from the Hyatt House Seattle Downtown, convenient for nap times and to wind down at the end of a long, enjoyable family day in the city.
The author and her family were guests of Hyatt House Seattle Downtown for the purpose of this review. Accommodations, some attractions, and dining were complimentary. However, all opinions are her own.