As a mom of three active kiddos, getting away has never been easy. There were a few years when sports and activity schedules were less demanding and I was able to get away for an annual girls' trip here and there.
But once my kids entered high school …fuhgeddaboudit.
But a year ago, my first-born twins headed off to college, leaving me with one teenager left at home. That meant life calmed down quite a bit — and mama was ready for a little alone time.
A solo trip for mom
So when I recently had the opportunity to sneak away for a few days to a little ocean paradise known as Grand Residences Riviera Cancun BY MYSELF, I couldn't say no.
I know. Right?
This secluded gem is the perfect retreat for a tuckered out mom, and I was set to indulge in every ounce of this mini-vacation.
Tucked away from the hustle and bustle of Cancun (it's 30 minutes away), Grand Residences Riviera Cancun has all the comforts and amenities of a luxurious resort without feeling pretentious. There are just 103 ocean-view suites ranging from the junior suites, which accommodate two guests, to the four-bedroom penthouse presidential suite, which comfortably sleep 13. I was treated to a one-bedroom beachfront master suite featuring 1,798 square-feet of pure decadence.
Upon arrival, after a complimentary transport to the resort, I was offered a margarita in the lobby and then escorted to my suite. I walked into a full-service kitchen, where I found a complimentary bottle of tequila waiting (a special welcome gift for all guests!). The large living room and dining area to my left offered plenty of comfy seating for an entire family, along with a large entertainment center (with a Bose sound system!), and two hidden Murphy beds flanking the television.
I pictured my kids lounging on the furniture and gawking at the TV -- all sun-kissed and pink with saltwater drenched hair -- after a long day of on-site resort activities. I knew they would have had a blast floating in the pools, playing tennis, riding bikes around the property, or partaking in beach soccer, water polo or a movie time with the teen center staff.
But I quickly brushed aside all the "mom guilt." After all, this was "me time!" The private terrace with its jacuzzi, lounge chairs, and outdoor dining table was definitely calling my name.
I'd just gotten here, but had no doubt I was going to be completely refreshed and spoiled after this trip.
Can't get my family out of my head
But as I attempted to get into "all about me mode" and delve into this vacation with gusto, my family kept invading my thoughts. Not because I missed them, but because around every corner this five-star Leading Hotels of the World-affiliated resort screamed FAMILY.
It turned out my suite would have been more than enough to accommodate my family of five (there was a third Murphy bed and king bed in the master bedroom, along with a large rain shower; another jacuzzi tub; two sinks in the master bath; and a half bath and laundry room off the kitchen!). There were also pool activities and contests, beach volleyball games, and families laughing and giggling poolside and on the beach. My family would have jumped at the chance to try the off-site activities throughout the Riviera Maya too, including snorkeling along a cenote or underground river, swimming with dolphins, zip lining through a tropical forest, and so much more.
Every time I entered a restaurant on-site and saw a family, I'd end up scanning the menu for things my kids and husband would love. The Italian buffet at El Faro Grill would fill my growing teens' bellies, and my husband would be excited to see fresh grouper on the menu. My kids would have engulfed the taco bar at Flor de Canela while my husband would have drooled over my filet -- cooked to medium-rare perfection and so tender I could cut it with a fork. And don't get me started on the dessert bar … I tasted every dessert, but my kids and husband would have devoured them all (I recommend splurging on the resorts all-inclusive plan. The food is THAT good. But a European Plan is also offered). I'm a bit embarrassed to admit, I even thought of my kids when we entered the resort's Natural Food Gourmet Market and saw Pringles on the shelves.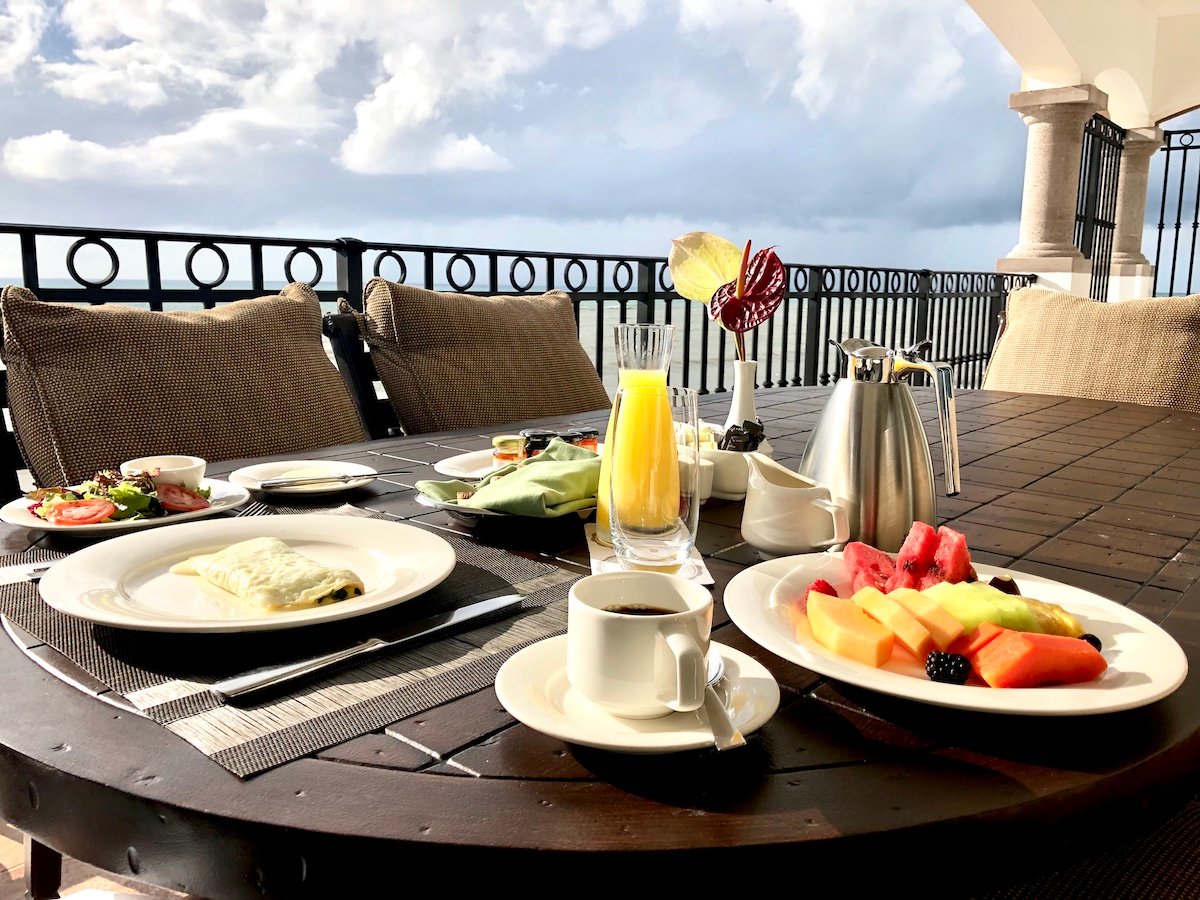 Time for pampering — with or without kids
Now don't get me wrong, these thoughts of my family didn't spoil my solo vacation. I took ample time to pamper myself at the resort's world-class spa. I luxuriated in a 30-minute massage one day and enjoyed it so much, I opted for another hour the following day. I emerged feeling like a wet noodle. Another traveler and I lay semi-comatose in the spa lounge until we recovered.
I also took some time to relax by the adult pool and swim-up bar, where attentive and kind staff members brought me cold water and Evian facial spray. And then, of course, there were the cocktails and tortilla chips with guacamole from the Heavens Beach Bar.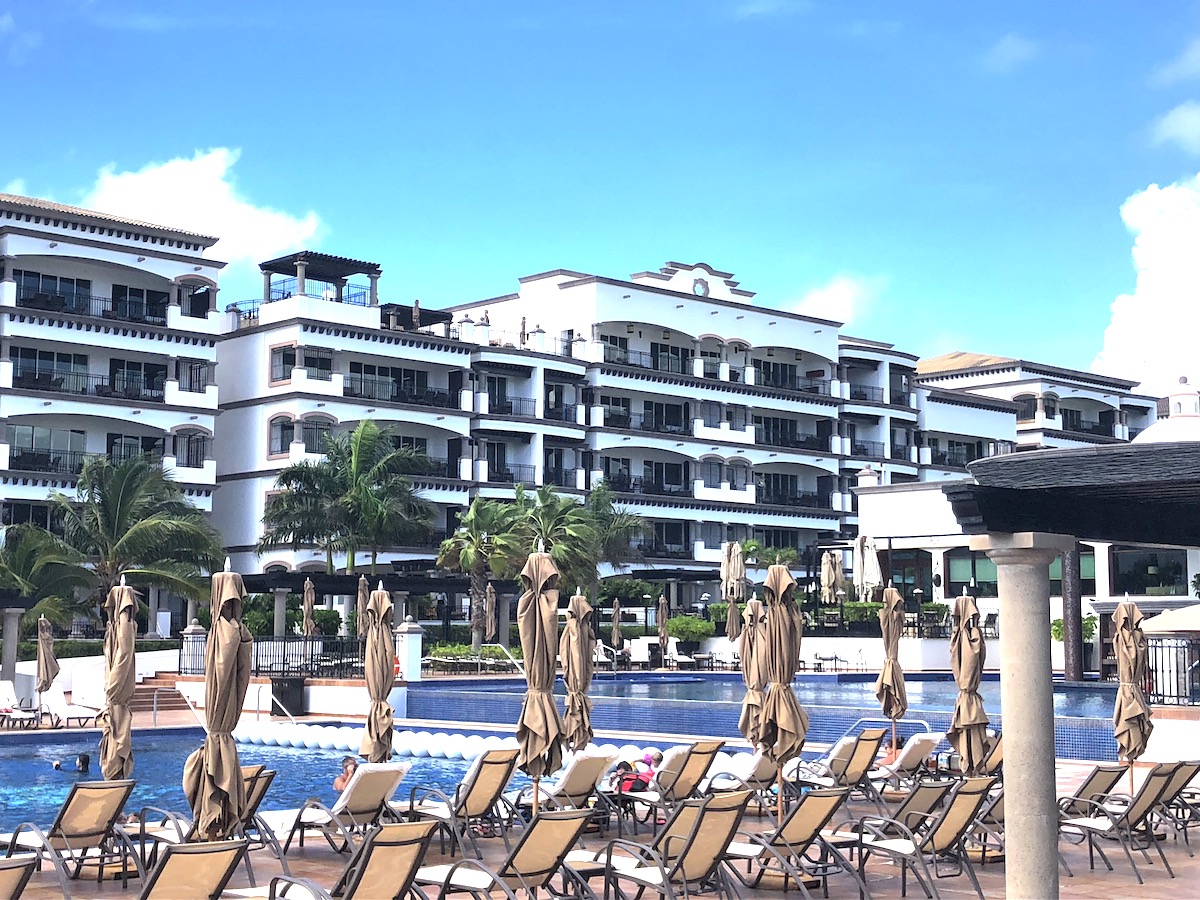 These opportunities are not only for those who visit without children. There are plenty of activities at the resort's Kids Club and the Teen Center, allowing mom and dad time away to relax and pretend they are alone on a romantic getaway.
Exploring the area
Although the remote Grand Residences provides out-of-the-way comfort and privacy, I also explored the quaint fishing village of Puerto Morelos, just a quick 10-minute ride down the road. The village is full of quintessential Mexican charm — small local shops, thatched roof restaurants, beautiful architecture, and the rhythmic swaying of boats in the turquoise waters at the marina.
I also took a 20- to 30-minute jaunt south, to the more developed, yet still authentic village of Playa del Carmen, to stroll Fifth Avenue and indulge in a dinner at La Cueva del Chango. My family would have savored both of these mini-excursions as much as I did.
This vacation was definitely the solo trip I needed to unwind, relax, and regroup, and the staff at the Grand Residences Riviera Cancun made it easy. I was sad to see my time there come to an end. But as I climbed into my transport back to the airport and said goodbye to the friendly staff, I felt a little lighter because it didn't feel like goodbye. In fact, as I stepped out of the Escalade at the airport and my driver Victor handed me my luggage with a smile, I told him I'd see him soon.
Only next time, I assured him, it would be with my husband and kids in tow.
The author received complimentary accommodations to facilitate this review. All opinions are her own.