It's the most wonderful time of the year as many locations across the country transform into exciting and gorgeous holiday towns with a unique array of displays, stores, light displays, and special events. It's time to get out your holiday bucket list, kick off the holiday season, and plan a trip to these towns that put their holiday spirit on display!
1. Santa Claus, Indiana
Known as America's Christmas hometown, Santa Claus, Indiana, bears the name of the jolly man himself and for good reason! At the Santa Claus Museum and Village, you can write a letter to Santa in the town's first post office. Letter writers can also send in their wish lists to P.O. Box 1, Santa Claus, IN 47579, and receive a personalized reply from local volunteers who serve as Santa's elves during the holiday season.
The town is also home to a variety of Santa statues and displays where visitors are encouraged to snap a #SantaSelfie during their visit. Of course, Santa's reindeer (yes, live reindeer!) are available for meet and greets at Santa's Toys during the season. You can also tour Santa's Candy Castle, experience the nation's largest campground light display at Lake Rudolph, and visit the official Santa Claus Christmas Store.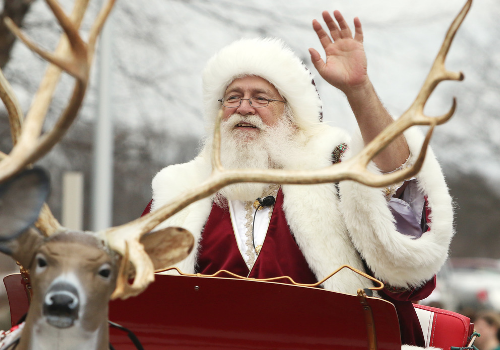 Photo courtesy of Spencer County Visitors Bureau
2. Chattanooga, Tennessee
For holiday family fun, Chattanooga, Tennessee, is a prime destination. Rock City's Enchanted Garden of Lights is located just a short six miles from downtown Chattanooga. It displays more than one million LED lights and has the largest, first-of-its-kind walk-through Christmas Tree. The 43-foot walk-through tree has programmable lights that move in coordination to music. Where else can you experience the holiday season from inside a Christmas tree?
The holiday excitement in Chattanooga only continues as your family journeys over to Ruby Falls for their annual Christmas Underground. Travel through a secret passage underground on a spectacular and vivid journey to visit Santa. The kids will love the glittering ice cave for extra holiday fun.
Of course, a trip to Chattanooga would not be complete without a train ride! Hop aboard a "Santa Train" on the Tennessee Valley Railroad complete with Christmas carols, refreshments, and a meet and greet with Santa.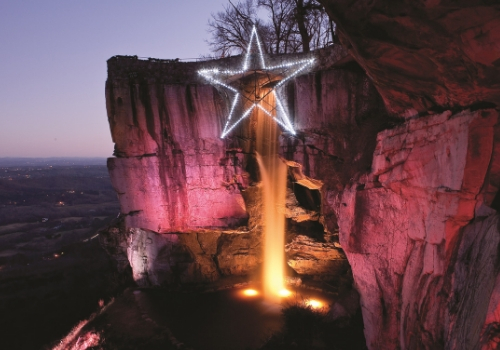 Photo courtesy of Rock City / Doug Barnette Photography
3. San Diego, California
If your family is on the hunt for a warm-weather holiday destination, then San Diego is the perfect option! Liberty Station (the former Naval Training Center) has a full lineup of holiday fun and festive décor during its Salute the Season holiday celebrations. The neighborhood also has a permanent 88-foot Norfolk pine tree that transforms into the community's Christmas tree every year. Visitors also enjoy ice skating in the neighborhood at the Rady Children's Ice Rink at Liberty Station, live pop-up entertainment every Saturday of December, holiday-themed art installations and visits with Santa.
Nearby, the Little Italy Tree Lighting & Christmas Village is a 48-square-block community that turns into a magical Christmas village with two Christmas trees (both more than 20-feet tall and one made up of more than 1,100 poinsettias), Christmas displays of 12 foot nutcrackers on each corner of the neighborhood, and seasonal plants and holiday lights that line the streets making it feel like Christmas the entire season -- even in sunny California.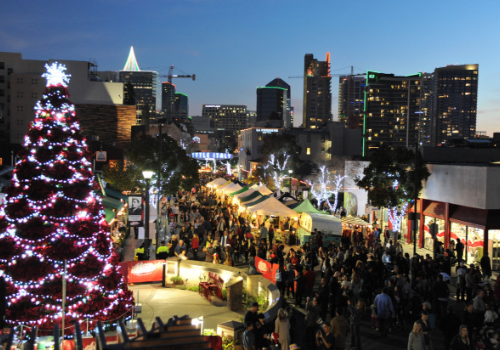 Photo courtesy of Kara Schniepp
4. McAdenville, North Carolina
Known as Christmas Town, USA, McAdenville, North Carolina (just west of Charlotte) is home to one of the most beautiful holiday towns in the country. Since 1956, the town has magically transformed its surroundings with more than 160 local, decorated homes and a large lake in the center of town that showcases 38 lighted spruce trees. There is no cost to see the displays.
The anticipation officially begins each year on Nov. 30 when the Official Lighting of Christmastown USA takes place. One of the most important traditions is the Annual Yule Log Ceremony during which residents and visitors follow the Yule Log on a sled pulled by children, through town. Once the log is positioned in the open fireplace, it is ignited and the Christmas Town Festival begins. McAdenville shows off family holiday spirit in such a beautiful way, filled with family traditions around every corner.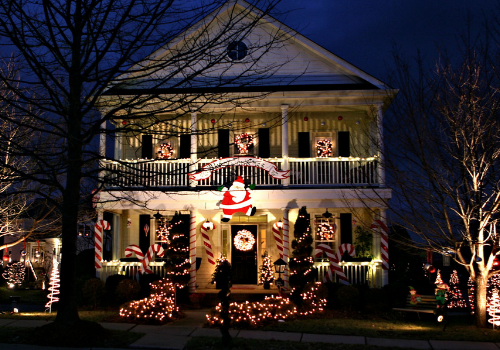 Photo courtesy of Steve Rankin
5. Branson, Missouri
Branson, Missouri, celebrates the season with parades and celebrations that run through the start of 2019. Silver Dollar City, with 40 rides and attractions, transforms into a magical holiday world filled with six million Christmas lights, and includes holiday-themed shows.
How about boarding a Ferris wheel at night? The 150-foot high Branson Ferris Wheel is the perfect spot to look out over the twinkling holiday lights. You'll also enjoy a holiday soundtrack and light show known as "Electrify Christmas."
Want to see more lights? The driving tour of "Let There Be Light!" features two miles of twinkling displays with a Christmas village and petting zoo along the way, and ends with Santa and his reindeer. You can also explore even more light displays at "Branson's Gift of Lights" and "Trail of Lights."
You also won't want to miss the World's Largest Toy Museum. The museum houses more than one million toys and collectibles that are sure to bring back memories -- and give your kids ideas for their holiday wish list.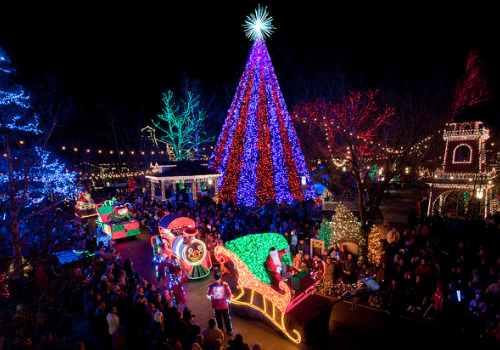 Photo courtesy of the Branson Convention and Visitors Bureau