The best hotels give you the chance to step out of your life and into a fantasy for a few days. They are places where things look and feel differently than they do in your usual day-to-day, with rooms that feel like home -- but better -- and food that pleases everyone.
Sonnenalp Vail in Colorado is that kind of place. Walk through the front door and you instantly feel as if you've stepped into another place and another time. A place of old European grace and warmth with a lobby that feels more like an exclusive European club than the lobby of a typical American hotel. The rooms are infused with warmth and charm. And Bully Ranch, one of its in-house restaurants, has a menu that makes it almost impossible to choose (though if you have to choose, consider the lobster mac and cheese, sizzling fajitas, or Bavarian pretzel, all washed down with a local brew).
This is a skiers' hotel, so easy access to the mountain is paramount. Here's how that works … when you arrive, the bell staff gathers your skis, boots, and poles. A fit young man will then hop on his bicycle and transport your gear to Ski Haus at the base of the mountain where it will await your arrival the next morning. There you will find your boots warmed, and hot coffee waiting to help fuel your day.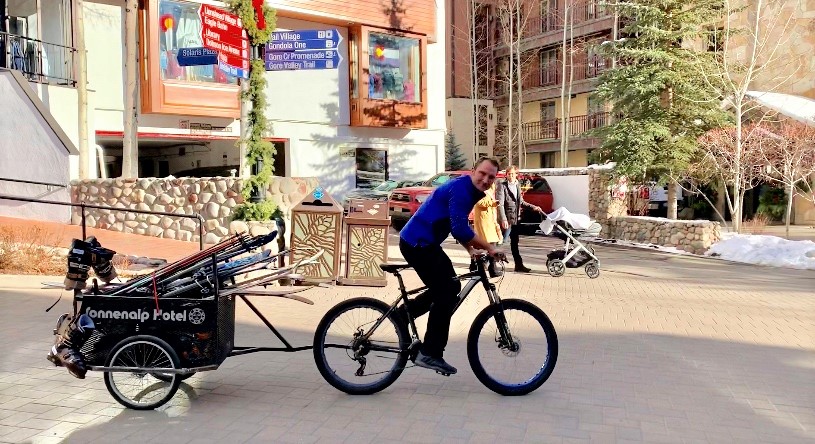 Of course, there is more to the mountains than skiing, and Sonnenalp's activities team gives you many chances to explore. You won't want to miss the weekly dinner during which a small group of guests is invited on an evening snowshoe hike to a candlelit yurt where an extraordinary meal awaits.
Traveling with kids? Sonnenalp's evening kids club program gives mom and dad the chance to enjoy a meal at one of Vail's many fine restaurants (Sweet Basil or Mountain or the Sonnenalp's Swiss Chalet come to mind).
And then there is the snowshoeing. Sonnenalp has unique passes to escort their guests on exclusive snowshoe treks through the White River National Forest. Activities director Kara Schmidt, a former teacher, leads the group and infuses the walk with winter forest wisdom and snow cone fun.
The Sonnenalp is an iconic Vail property that traces its Bavarian roots back more than 100 years. The sense of authenticity, heart, and history at this family-owned resort makes a stay at the Sonnenalp an iconic Vail experience.
The writer and her family were guests of the Sonnenalp and received discounted lodging. No other compensation was received and all opinions are her own.