I knew Carmel Valley Ranch Resort was going to be special treat for this foodie mom, but I didn't realize a visit there would also involve special educational experiences for my son and me about where our food comes from.
My 7-year-old son, Dante, and I escaped to Carmel Valley Ranch for a special getaway for just the two of us. It turned out to be a vacation that neither of us will ever forget. Part of that is because of the beauty of the ranch itself. It is located in Carmel, Calif., just outside of Monterey. The 500-acre property is nestled in a valley between two mountains. We were both astonished by the landscape as we drove onto the ranch property. As we ascended the road, we could see a golf course, lavender-lined streets and inviting swings hanging from big oak trees.
"This isn't the usual hotel we go to mom," Dante told me. "This place is going to be an adventure!"
| | | |
| --- | --- | --- |
| | Photo courtesy of Carmel Valley Ranch Resort | |
Our room didn't disappoint either: it was as warm and inviting as a mountain cabin filled with the amenities of a first class hotel. Dante was over-the-moon excited for the homemade cookies waiting for us.
Let's eat!
The cookies were the perfect snack, but we'd had a long day of travel and couldn't wait to try one of the three restaurants on site.
Our first mother-son date was at the Valley Kitchen, located in the main building of the resort. As we walked up to the building, we had to navigate our way around the turkeys that roam freely about the property. Dante loved seeing the birds in the wild.
The restaurant was casual and the ambiance warm with a homey feel. We were seated by the fire at a cozy table.
I chose the Fisherman Jerry's Catch, served with asparagus puree, power greens, seasoned with Meyer Lemon and topped with locally-foraged wild mushrooms. The chefs incorporate honey from the resort's bees, salt from its salt house, eggs from the chickens, and fruits and vegetables from the organic garden on the property into the meals they prepare.
Dante is typically a plain noodles or cheese pizza kind of guy. However, the waitress convinced my little guy that the chicken was delicious and the french fries were the best he would ever taste! She was right.
After dinner, stuffed to our gills, we walked to the pool area where a campfire had been set up for guests to make s'mores. This is a nightly treat at the ranch and it's a nice spot to relax in an Adirondack chair while you wait for your marshmallow to toast. A perfect ending to our date.
| | | |
| --- | --- | --- |
| | Photo courtesy of Carmel Valley Ranch Resort | |
The bee's knees
The next morning we woke up refreshed from a great night's sleep. Dante even slept a few hours later than usual — a nice treat for me!
Our first activity of the day was the resort's Bee Experience.
| | | |
| --- | --- | --- |
| | Honey infused with herbs from the resort's organic garden. | |
I was a tad worried. It turns out my boy is terrified of bees. When he heard that we would be taking a bee class, he was anxious. But he got used to the idea and was even — cautiously — excited for the experience.
So we met up with Chris the Beekeeper and felt like we'd been inserted into a documentary about the lives of bees.
"Bees pollinate our gardens and give us medicine for allergies and infections," buzzed Chris, who wasn't above making some bee-musing puns. "Their relationship with humans was meant to bee."
Some fun facts about bees that my little man loved:
Bees can smell 50 times better than a dog.
Bees don't like the smell of smoke.
Queen bees can lay eggs the weight of their bodies.
| | | |
| --- | --- | --- |
| | | |
| | Chris, the punny resort beekeeper. | |
We also toured the resort's chicken coop and Dante had a chance to play with and feed the chickens. He learned how they behaved, ate, and how they lay at least one egg per day in the winter and produce more in the summer. He loved the chickens. It was amazing to see how peaceful he was with "the girls."
More eats
When you're a foodie family, it's all about what meal is next! We love trying new things, the flavors of the foods, and spending the entire meal talking about the tastes. I believe tastes help create memories that can last a lifetime. My children still talk about the places we travel based on what we ate. That's what foodies do!
I expect Dante's memories from the River Ranch Cafe at Carmel Valley Resort will involve the most perfect of mozzarella sticks. He's still talking about the "mozzies" he had on this trip.
He wasn't the only one happy. I loved my fish tacos, which came with a beautiful salad. The tacos were made with locally-sourced fish and were complemented with a lovely sauce.
Food is always a treat when surrounded by beauty, and here the River Ranch Cafe truly excelled. The restaurant featured indoor-outdoor seating and offered a beautiful view of the saltwater pool, hot tub, and a swing on the giant tree.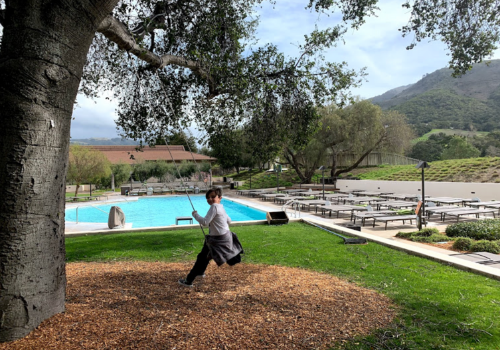 It was a reminder that simple things can often be the most special, and I felt lucky to have a few days to unwind with my son. Carmel Valley Ranch Resort was the perfect destination for this foodie family's escape.
Erika Veduccio and her son were hosted by Carmel Valley Ranch. Accommodations, meals, and activities were complimentary. No other compensation was received and all opinions expressed are the writer's own.
Erika is the co-publisher of Macaroni Kid EATS! She would love if you'd join her foodie family! Sign up today to receive our free monthly Macaroni Kid EATS newsletter!