I believe that we each get a certain number of perfect days in our lifetimes. Days when everything feels easy, happy, peaceful, and beautiful. Days that seem to glow. Days you always remember.
Those kind of perfect days are few and far between. They require a touch of magic and, if you're a mom, they require that your kids have that "perfect day" feeling too.
I recently experienced a perfect day on a very special mother-daughter trip to Beaches Resorts in Negril. The weather was perfect, the beach pristine, the variety of activities stunning, and the Beaches' team warm, welcoming, and fun.
And the food? Ah-mazing.
Morning magic
Of course, a perfect day must be preceded by a great night's sleep. That was no problem at Beaches, which recently renovated the majority of their rooms. The new decor is light, bright, and Caribbean-inspired. Most importantly, the bed was, well, perfect. Nightly turndown service, complete with towel animals, was a fun touch.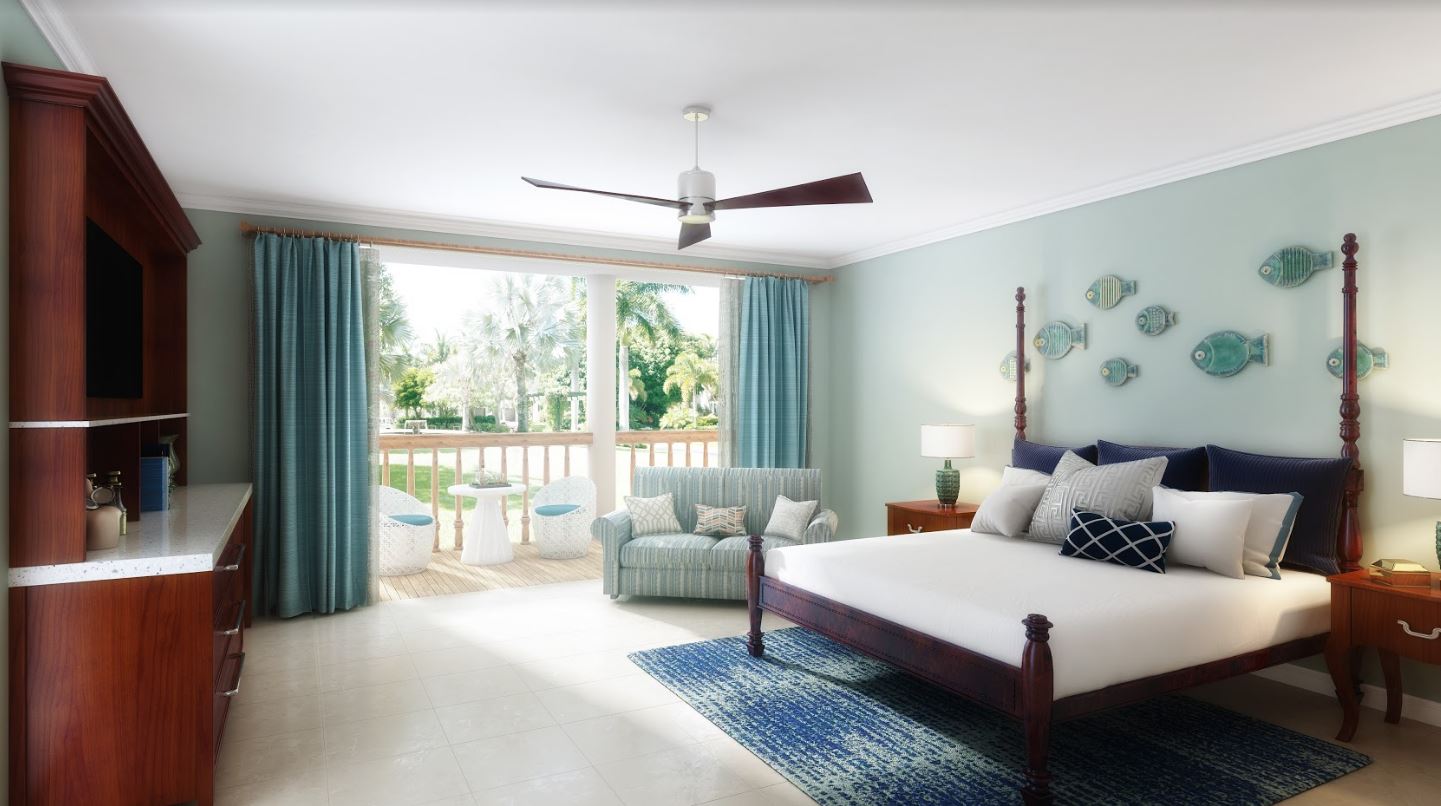 A perfect day must be fueled by a perfect breakfast, preferably with toes in the sand on the edge of the Carribean. So we skipped the lavish daily buffet in favor of Stewfish, an oceanside casual restaurant serving up Jamaican-inspired cuisine for breakfast and dinner.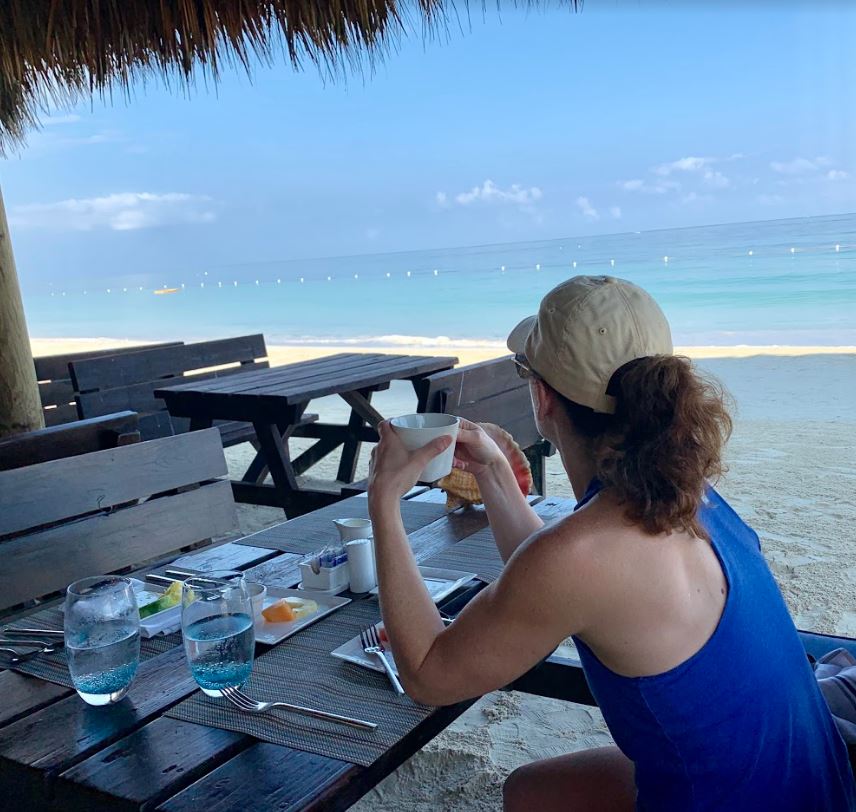 Next up? A two-mile mother-daughter walk along Negril's famed seven-mile beach, where the water is a kaleidoscope of blues and greens and there are just enough people walking the beach to make it feel lively and fun, but not crowded.
You know what we did on that walk? We talked. Not a lot, because, well, Maddie is 13 and not prone to deep conversations -- at least not with her mom. But we chatted. And did headstands and snapped photos and shopped for a shell necklace and a few pairs of crazy socks from a guy on the beach.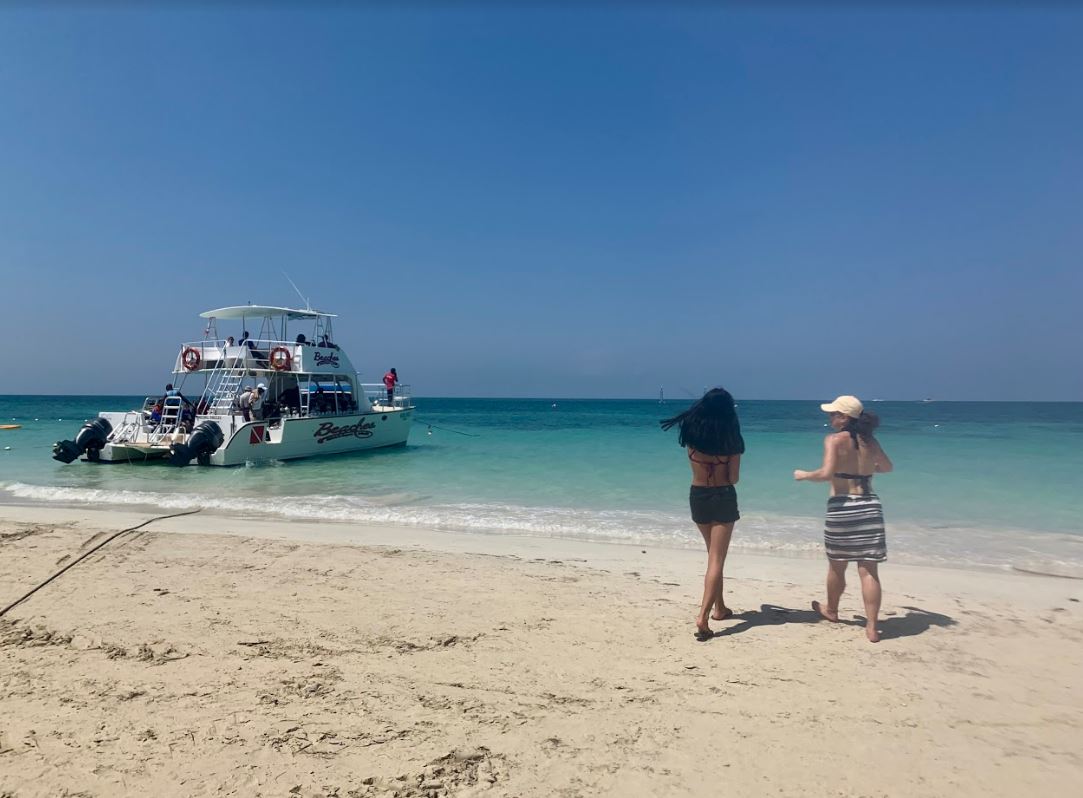 An out-of-this-world afternoon
The morning flew by and before we knew it, it was time to check in for Snuba. I'm a certified SCUBA diver, a skill I rarely take out of semi-retirement because SCUBA is so much work. Snuba, on the other hand, delivers 85 percent of the fun of SCUBA diving with 10 percent of the work.
After just a ten-minute briefing, our guide led us into the water and handed us our regulators (the thing you breathe through) which was connected by a hose to a raft that remained floating just above us. Slowly and carefully, checking constantly to be sure we were equalizing our ears and feeling comfortable, he led us 25 feet down to the bottom of the ocean where the sea spread out around us. Within moments, we were off following a school of brilliant blue fish.
By the time we returned 90 minutes later, we were hungry. Again. Luckily for us, Beaches has nine restaurants and on this, our perfect day, we choose Bar B.Q. Park. The casual open-air restaurant, situated near the water park, serves up addictive Jamaican patties, a mahi-mahi wrap, and roasted jerk chicken, among many other options. Dessert accompanies pretty much every vacation meal, so after lunch, we strolled across the courtyard to YoYo's for fro-yo. And, because this was a perfect day, the eight available flavors included Salted Caramel for me and a red velvet cone for Maddie. We enjoyed the treats as we made our way to the beachside Pirates Island water park to enjoy a float on the lazy river and a few runs down the water slide.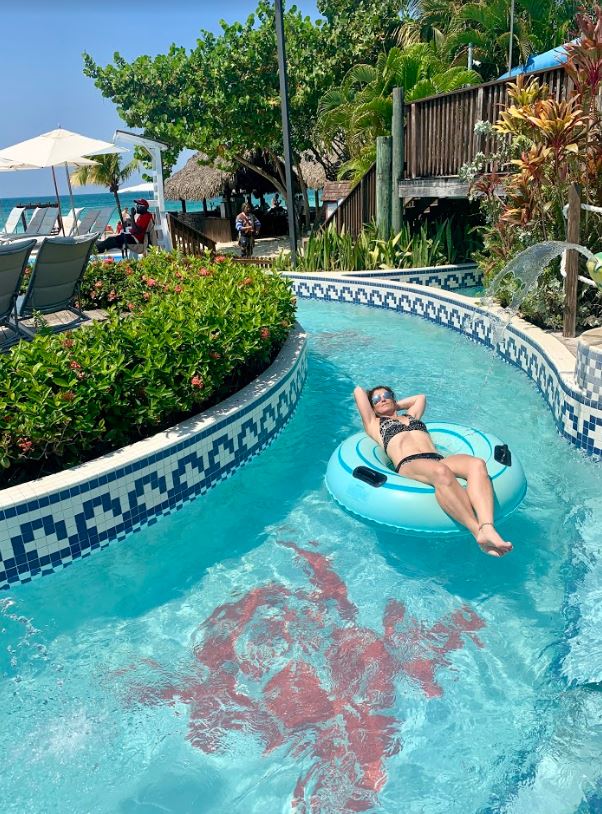 It was barely 2 p.m. and already we'd eaten breakfast beside the ocean, walked on the beach, explored the bottom of the ocean, discovered Jamaican patties, floated on a lazy river, and ridden water slides.
By then the waterfront was open for afternoon fun and -- perhaps the only thing about the day that wasn't perfect -- I wanted to water ski, sail, stand-up-paddleboard, and take a water trike out for a spin. But, there are only so many hours in the afternoon, so we had to choose.
Sailing it was.
As we steered our sailboat back to shore, we spotted Cookie Monster and the rest of the Sesame Street gang down the beach hanging and posing for pictures. We joined for photos and dancing. Let me say that again: I danced on a Caribbean beach with Cookie Monster. I told you it was a perfect day right?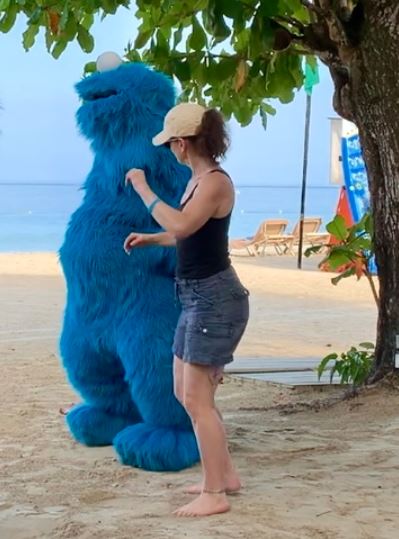 Cocktails and massages
The afternoon was winding down, so it was time for cocktails: a mojito for me and virgin pina colada for Maddie. Each of Beaches' seven bars has an extensive menu of adult and kid concoctions, but what the Beaches' bartenders love most is to craft a cocktail just for you. Like 'em spicy, sweet, or sour? Just let the team know and they will mix up something with your name on it.
A perfect day requires a visit to a spa, so off we went to the Red Lane spa for mother-daughter massages. Maddie selected from the special teen spa menu, while I let a skilled massage therapist work her magic on my back.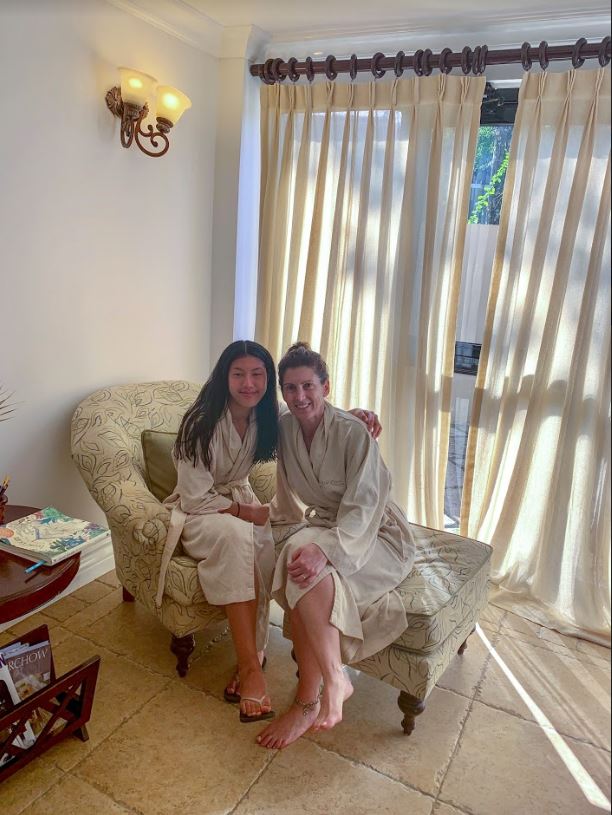 Sunsets, sushi, and singing
Relaxed and glowing, we finished at the spa just in time to catch the sunset over the Caribbean before heading to Soy for dinner. In my world, a perfect day has to include an incredible sushi dinner. I was confident the team at Soy would accommodate my shellfish allergy because, at every meal, our servers asked us about whether we had any allergies. So I knew that they were careful. Everything on the menu looked amazing, which meant we over-ordered and then proceeded to eat every delicious bite.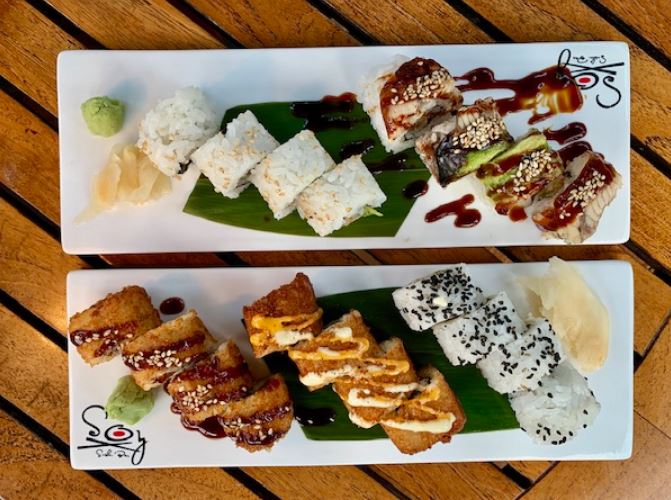 We had about 45 minutes before the evening entertainment began, so we muddled through a game of pool together. Together. I won, but not by much. Then we wandered over to the theater where the evening's entertainment was a guest and staff talent show. The show began with the requisite little girls standing on the stage, holding hands and shyly singing Katy Perry's "Fireworks."
But then things got interesting.
A guest who was a modern dance prodigy performed, followed by a Beaches' employee -- still in her front desk uniform -- with a voice that could have landed her on "The Voice."
Making memories with my daughter
By 10 p.m. we were back in our room, chatting about our favorite parts of the day as we crawled into bed.
It was a perfect day because Beaches provided the perfect backdrop for my daughter and me to connect, have fun, and share new experiences during this rare time alone together.
We were cared for by an attentive, warm, and fun staff. We were nourished, entertained, and massaged. And yet, there was so much more we could have done! We didn't waterski or paddleboard. We didn't eat hibachi-style at Kimonos, sample the dinner buffet at The Mill, or try the lasagne at the Venetian. Maddie didn't join in any of the extensive activities for teens. We didn't go on a snorkeling cruise or leave the property for an excursion. We hadn't participated in the weekly parade or the beachside party.
"Thank heavens," I said to her as I turned out the light, "we still have three more days of this perfect vacation."
----------------------
I was a guest of Beaches Resorts for the purpose of this review and accommodations and most activities were complimentary. No other compensation was received and all opinions are my own.