Jackson Hole is one of those resorts on everyone's bucket list. Or at least it should be. And Jackson Hole isn't just for expert skiers. In fact, it's a great place for families with skiers of all levels. If you take advantage of Jackson Hole's resources, you'll leave here a better skier --and have an amazing time!
Here are six ways Jackson Hole is great for skiers of all abilities:
1. The ski school
This may seem obvious, but Jackson Hole's Mountain Sports School is among the best in the world. Why? Because the skiing at Jackson Hole attracts some of the most passionate ski instructors in the world. They stay on and progress to become among the best the PSIA (Professional Ski Instructors of America) has to offer. And the same applies to snowboarding. We had the pleasure of skiing with Mike, one of their top instructors. He gave us a great tour of the mountain and had plenty of tips and tricks to advance our skiing.
2. The terrain
While there are great slopes for learning, most of the mountain is for advanced intermediate skiers and up. The instructors know to get you "up on the hill," you need to be able to ski intermediate-plus slopes. They do a great job of teaching you how to do just that. And once you can ski the blue intermediate slopes at Jackson Hole, you can pretty much ski black diamond expert trails at any other resort.
3. The new Solitude Station
The Solitude Station just opened this past season and is entirely dedicated to kids and adults improving their skiing skills and having a great experience. It's the official Mountain Sports School home base with 12,000 square feet of space including check-in, rentals, and dining. It's just a two minute gondola ride from the base of the mountain. We took a tour and were blown away by the thought that went into making it the ideal place to maximize on mountain learning. New for the 2019/20 ski season: the Eagle's Rest quad chair that provides easy access to Solitude Station and the beginner to advanced terrain in the area.
4. The slope grooming
Jackson Hole Mountain Resort takes its grooming seriously. The resort is constantly adding to its grooming fleet to make sure conditions are the best possible. And with an increased snowmaking capacity, they make most of their blue slopes a nice corduroy for easier skiing and riding. And many of their advanced or expert slopes, when groomed smooth and wide, become available to a wider range of skiers.
5. It's kid-friendly
Your kids will improve as skiers here too -- probably faster than you will. The resort has loaded the mountain with hidden "fun zones" just for kids. Knowing your kids are having a great time will let you relax as you enjoy the mountain experience.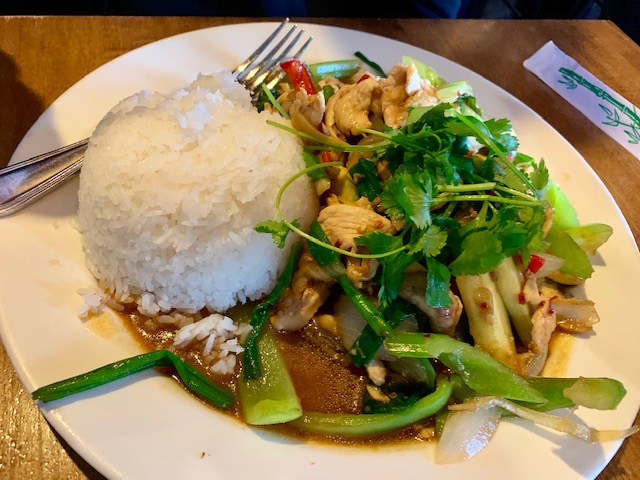 6. Lunch at RPK3
This is a bit of a stretch, but fueling up for your afternoon of skiing is important and RPK3 is a great way to take a break and enjoy an outstanding lunch. We really enjoyed the flatbread and the Korean chicken bowl. After a morning of pushing your skiing, you'll appreciate the slope-side convenience and classic food.
If your passion for skiing involves getting better at the sport, Jackson Hole Mountain Resort should move to the top of your family's bucket list.