Deer Valley is a 2,000-plus acre ski area in Park City, Utah. One of the last major ski areas that doesn't allow snowboarders, Deer Valley is a family-skiing paradise. Here are seven reasons we love it:
1. The skiing
Deer Valley offers an unparalleled ski experience with long, steep pitches, incredible grooming and enough variety for everyone in the family. During our visit, our group of six skied everything from super-scary steep chutes to gentle greens, and everyone loved the rolling blues that offer superb skiing from the top of the lift to the bottom.
2. The service
Deer Valley kicks it old school and offers old school service, from the guys standing by to help unload your car when you arrive, to the on-mountain hosts who will gladly direct you to the slopes that suit your skiing desires.
3. The vibe
Deer Valley has a relaxed, low-key vibe. But that doesn't mean exceptional skiers aren't skiing their hearts out. It just means that the attitude is one of abundance versus one of scarcity -- the resort limits daily ticket sales so there's never that anxious feeling on the lift line because there's plenty of skiing for all.
4. The food
Deer Valley has leveled up their on-mountain dining throughout the resort, and our lunch at Empire Canyon at Deer Valley demonstrated their commitment to satisfying everyone in your crew. Our group of six, ranging from ages 13 to 67, sampled everything from soup and mac and cheese, to burgers, salads, and fish tacos. Every bite of every dish was delicious.
5. The views
"This is as close as I will ever get to the feeling of jumping out of a plane," said Jason, who joined us for this trip. It was his first visit to Deer Valley and we were standing at the top of Bald Mountain where a vast and unspoiled mountain vista stretched out in front and below us. Truly one of the most beautiful views imaginable.
6. The Ikon pass
As an Ikon pass holder, you can ski Deer Valley for seven days. And note: while other Alterra resorts offer unlimited skiing for Ikon pass holders, Deer Valley limits it number to seven to keep skier visits in line with their daily quotas.
7. Location, location, location
Deer Valley is just 40 minutes from the Salt Lake City Airport. That quick ride can make all the difference when traveling with kids.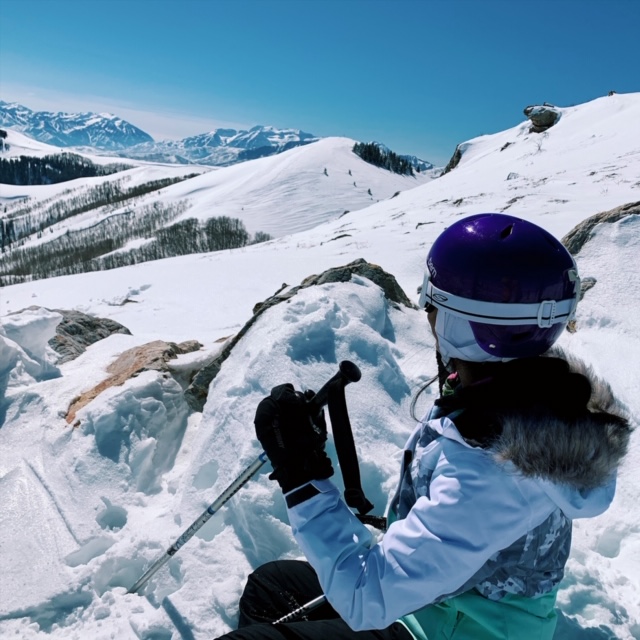 Skiing as a family has its challenges: bulky clothes, getting kids out the door in clunky boots, late-day exhaustion. We get it. Deer Valley makes the whole experience just that much easier with easy access, a great vibe, and fabulous skiing. It's no wonder so many families come back to Deer Valley year after year.
The author and her group were hosted by Deer Valley. All opinions are her own.