Wherever your next family trip takes you, where you spend the night could be just as much fun as which destination you choose.
Want to add some excitement to your next family vacation? Try spending the night in any of these ultra-unique themed rooms or cottages. From funky spaces that pay homage to notable characters to luxury suites that take you into another time and place all together, themed hotel rooms are a fun way to make a trip more memorable.
Here are 11 themed hotel rooms we love:
The Curtis
Denver, Colorado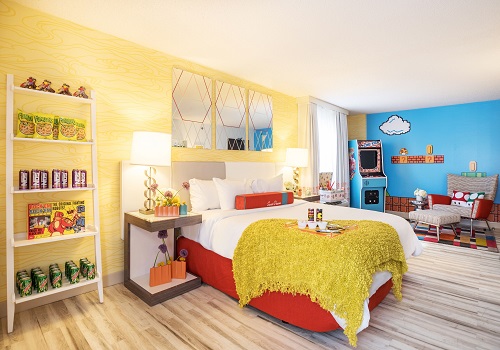 Pop culture is the centerpiece of this 336-room hotel, where the suites all have a custom theme based on the specific floor. On the fifth floor, for example, you can take in a tribute to superheroes. Music lovers will jam out in the Jimmy Buffett Suite while movie buffs may relish a stay in the Ghostbusters Suite. Other floors are dedicated to science fiction, games, and more. thecurtis.com
Inn at 500
Boise, Idaho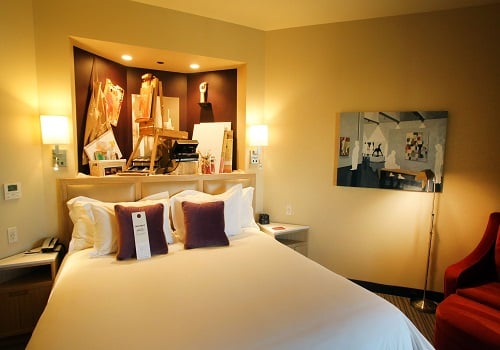 Several rooms at this Boise hub pay respect to the Oregon Trail, the Zoo Boise and the local Basque population. Explore maps and other trail-inspired artwork on the walls of the Oregon Trail rooms, then set off to check out several historic sites and museums in the city including the Oregon Trail Reserve. The hotel boasts four Zoo Boise themed rooms that feature animals your family can see at the nearby zoo. The Basque themed room is a tribute to the unique Basque heritage in Boise, which is the largest base outside of Spain for people of this European ethnicity. innat500.com
Pirate Island Hotel
Orlando, Florida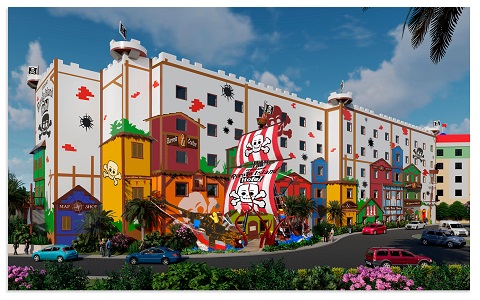 Aaargh—ahoy, mateys! If your brood is headed to the Orlando area next year, you may want to stay at the Pirate Island Hotel, which opens in spring 2020. The hotel connects to the LEGOLAND Hotel and will be packed with 150 rooms featuring daily in-room LEGO treasure chests, treasure map headboards, boat-shaped bunks, and everything clad in LEGO pirate décor. (Visiting the park in Carlsbad, California? The LEGOLAND Hotel and LEGOLAND Castle Hotel—two properties in the park—also have themed rooms.) legoland.com/florida/pirate-island
The Roxbury Motel
Roxbury, New York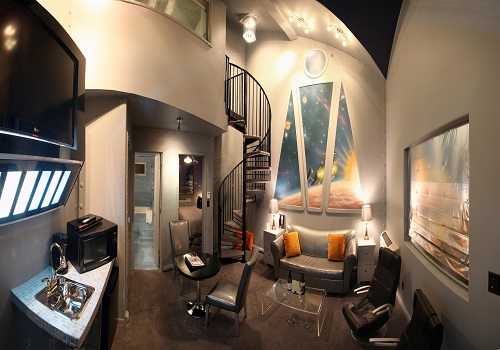 A trip to the Catskills may not seem like the spot for a themed hotel room, but this boutique motel resort breathes new life into the mountains. Rooms are odes to television shows and movies of the past, including rooms themed around The Wizard of Oz, The Flintstones and Gilligan's Island. It's a good way to infuse some culture into your kid's perceptions on entertainment—and you'll love the blast from the past too. theroxburyexperience.com
Leavenworth Tiny House Village
Leavenworth, Washington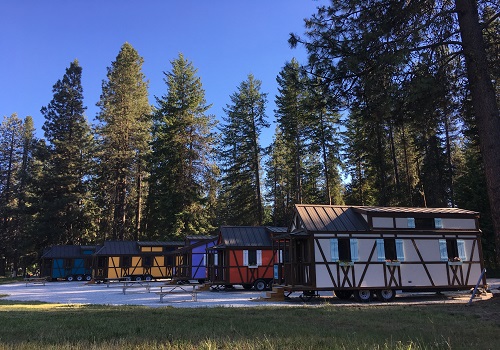 Skip hotel rooms all together and head to the Leavenworth Tiny House Village, which has five tiny house vacation rentals at the Leavenworth Camping Resort. The beautiful Cascade Mountains provide the perfect backdrop to soak in the recreational activities in the region. The campground is 17 minutes from the Bavarian Village of Leavenworth and features several tiny homes themed around poetry, dance, music, holidays, and even weather. leavenworthtinyhouse.com
Loews Portofino Bay Hotel
Orlando, Florida
What kid can't get enough of Gru and the minions from Despicable Me? This Despicable Me-themed room can accommodate five children and has an attached room for adults. The beds are shaped like missiles.There aren't too many other bells and whistles in these suites, but the beds are enough to entertain—and hopefully guarantee a good night of sleep. Plus, this is a Universal Studios property, so guests enjoy exclusive theme park benefits. universalorlando.com
Adventure Suites
North Conway, New Hampshire
It doesn't matter if you're traveling with kids—your next adventure in New England could be even cooler in a room that depicts a cave, treehouse, jungle, or rocket launcher. The hotel has several other themed rooms that are ideal for adults, such as a wine cellar or movie-themed pad. adventuresuites.com
Flying Flags
Buellton, California
This retro-chic vintage resort in Santa Barbara Wine Country offers luxury amenities in 56 cottages and 16 tents along with three pools and plenty of activities for children. Stay in a cottage themed after a national park, surfing, or a safari. With spaces for adults and kids, it's a good place to stay if you want modern, upscale accommodations indoors while enjoying a great time outdoors. highwaywestvacations.com/properties/flyingflags
Great Wolf Lodge
Various Locations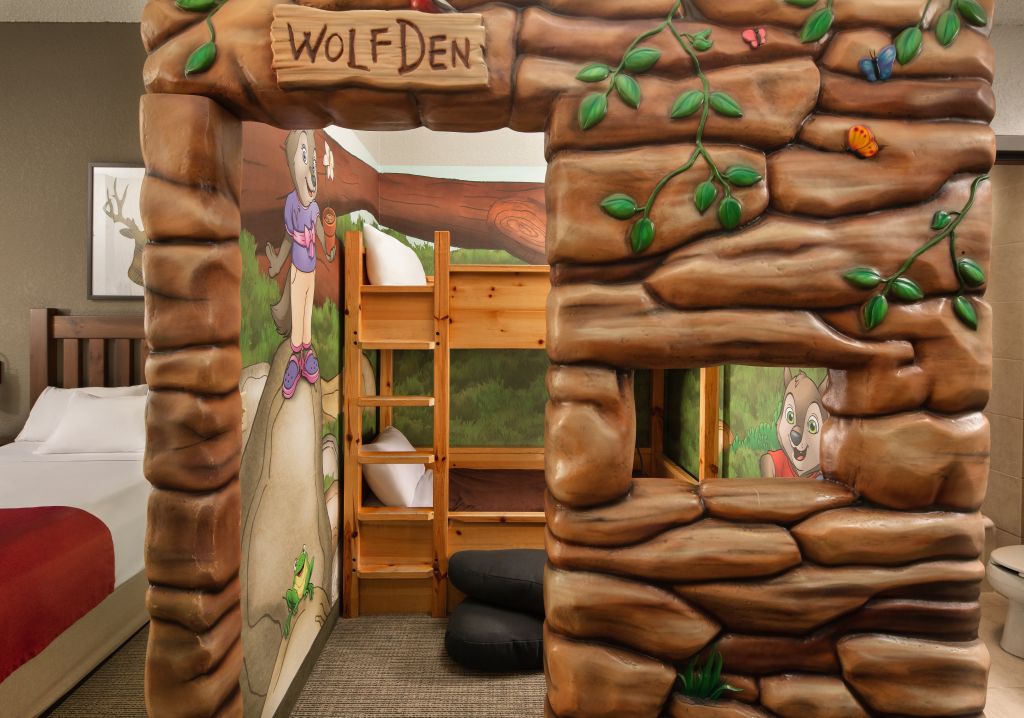 The kids may not be ready for an outdoor camping adventure, but the Great Wolf Lodge has a few cabin-themed suites that offer rustic charm with modern amenities. Sleep in a cave or tented area, enjoy a private balcony or patio, and take in rustic décor. The chain has several locations, so be sure to check out the one you're headed to in order to see if your kiddos can stay in the Wolf Den, KidKamp, or KidCabin suites. greatwolf.com
Port Lympne Hotel
Kent, England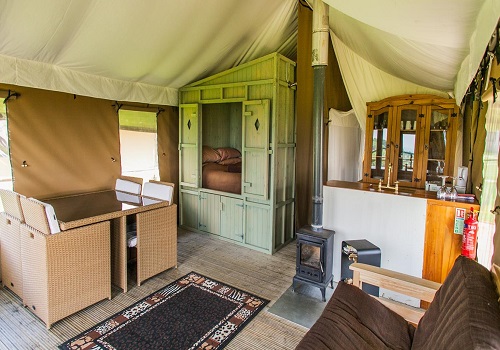 Want to experience all the fun of a true safari while still being able to take in indulgences near London? Join wolves, rhinos, tigers, giraffes, and more wildlife at the Port Lympne reserve. This breeding facility has about 700 rare and endangered animals—and you can stay right on site with them. There are rooms in the country manor house hotel, plus glamping for those who would rather rough it—in a more luxurious way, of course. aspinallfoundation.org
The Plaza
New York City, New York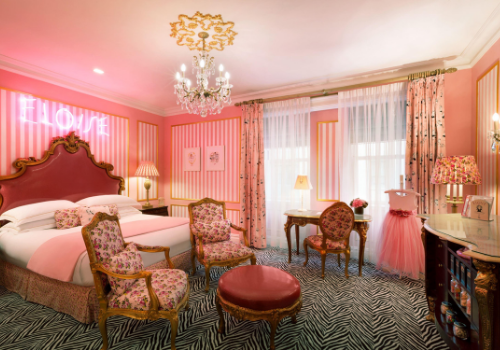 Betsey Johnson designed the Eloise Suite, which is reflective of Kay Thompson's books about the little girl. The room is on the 18th floor of the hotel and has a king-sized bed covered in Eloise sheets with a sparkly headboard that is—as it should be—pink. A tea set, dolls, tea for two at The Palm Court, a $100 gift card, and a free copy of Eloise at The Plaza are included among the pink-cladded extras. Extra fun: a Nanny Suite adjoins the room and includes champagne and truffles. theplazany.com
Kristen Fischer is the publisher of Macaroni Kid Central Jersey Shore.