Ever stare out the window on a cold, dreary day thinking that someplace warm and sunny -- preferably with palm trees -- would make you feel a lot better?
Where I live, winter is hard. And cold. And dark.
So when I was invited to check out two adventure parks in Playa del Carmen, Mexico, I couldn't say no. I knew this mama needed a good dose of vitamin D and an adventure to beat the winter blues. I packed my sunscreen, bug spray, and water shoes and off I went to explore Xcaret by Mexico.
An Earth-friendly and focused adventure park
Xcaret was described to me as being Mexico's version of Disney World. It consists of nine different nature and adventure parks, each with their own special theme, including everything from water parks and snorkeling; to exploring cenotes; to visiting and climbing archaeological sites. Truly a fantastic way to see another side of Mexico and their culture. (You know, something you can't see sitting poolside at your hotel.)
I was treated to a day each at Xplor and Xavage. Think amusement park meets adrenaline rush. Because instead of riding the Ferris wheel or roller coaster or bumper cars you are ziplining, swimming in underground caves, and doing 360 degree spins in a jet boat.
Something else worth noting: While Xcaret is Mexico's leader in nature and adventure parks, they are also a leader in sustainability with a commitment to eco-friendly tourism -- something they are very proud of, and rightly so. At Xplor Park we were even asked to trade in our regular sunscreen for their eco-friendly and reef-friendly sunscreen -- free of chemicals that hurt the environment. Definitely a plus in my book!
You get access to all of the park's attractions with one admission price. Plus meals, non-alcoholic drinks, and locker rentals are all included. Parents, you might want to reread that: It's all included. This is a huge sigh of relief, as we all know how getting in the door of places like this is just the start of a day of spending. Not here. I was so pleased to see the tickets are all-inclusive. Drop your wallet (and anything else you don't want to get wet) in your locker and you're set for the day.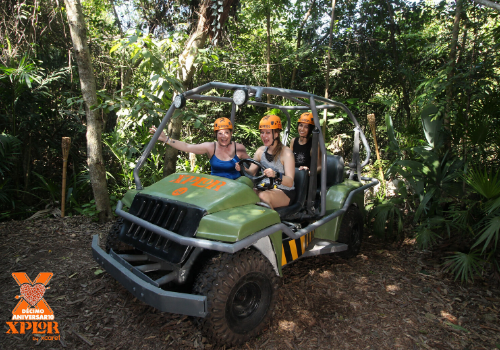 We started at Xplor with getting fit for a hard hat. Any time I am told I need to wear a hard hat at all times, I'm going to be a little wary.
But I was stepping out of my comfort zone.
I was trying new things.
Plus there were lots of younger (and older) people walking around in their hard hats laughing and having fun, so if they could do it, then so could I!
Surprisingly, the hardest part of the day wasn't getting over my fear of trying new things. The park staff made that the easy part. It was clear our safety was a priority and there were checkpoints throughout the attractions where staff members would check to make sure all was okay. (A special shout out to the guide who helped push my raft along in the underground river!) Now don't get me wrong, there was still some fear and screaming, but the good kind ... the having so much fun kind.
The hard part was taking it all in and realizing how remarkable it was to be seeing a side of Mexico you don't normally experience. I was kayaking with hand oars in an underground river. I was zip lining above the trees. I was seeing a side of Mexico's Riviera Maya that only the monkeys, macaws, and lizards see. (And yes, I got glimpses of all of those amazing creatures, too!)
My favorite Xplor moment: Ziplining. I didn't want it to end. But it did. Into the water. Which makes for a very easy landing!
Good to know: While you 100 percent want to wear sunscreen and bug spray, there are tons of trees and most of this park is very shaded. In fact, I was in the sun very little (mostly when zip lining above the trees!)
Age recommendation: 6+

I thought Xplor was a pretty high-level adventure park. I was wrong. Xavage is a high-level adventure park. The attractions at Xavage are a bit more adrenaline pumping and challenging then Xplor. Xavage is also the newest park in Xcaret. Not quite open a year, it is the most adventurous park in the Xcaret park family. And, yes, once again, I was greeted with a hard hat!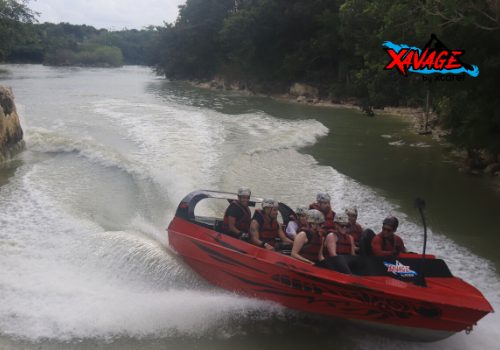 While on the ropes course, I'm pretty sure at one point I said out loud, "I do my own stunts." Because that's how I felt. And given the option, I could handle my own stunts (fully tethered and clipped in with no chance of actually falling and hurting myself, of course.) There are not many mom moments during the day where you get to visit this adventurous side of yourself. I think that is a mistake a lot of us make. Sure, changing a diaper on some occasions could be considered an adventure. But that's not the type of adventure we truly need or want! There is something amazing about adrenaline rushing through you, being a teeny bit scared while laughing and having so much fun all at the same time.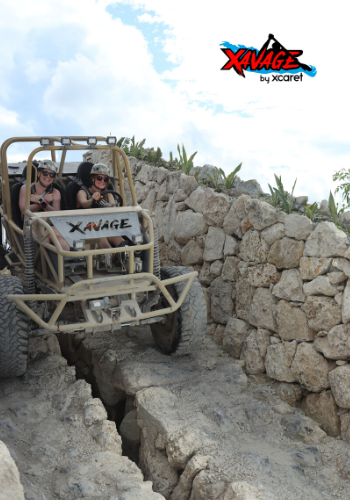 My favorite Xavage moment: The Monster Truck ride. I can honestly say I've never done anything like this one before. It was incredibly fun, totally crazy (like how much tequila did the guy designing the course drink?), and exhilarating all at the same time.
Good to know: I would recommend tackling the ropes course first. It's pretty intense, even at the easy level. It's a workout for your mind and body, and while I won't say I could relax on the next attractions, none of them needed the same level of physical and mental concentration as the ropes course did.
Age recommendation: 8+
Where to stay?
Alright. Confession. It wasn't ALL adventure on my trip to Mexico. I did get a little time poolside and beachside and thankfully The Fives was the perfect place to rest my feet after a day of adventure.
The all-inclusive hotel offers 1-, 2-, or 3-bedroom suites. The 1-bedroom suite sleeps 4 comfortably with plenty of room for everyone to feel right at home. All-inclusive includes most of the restaurants, 24-hour room service (seriously my favorite hotel luxury), and activities throughout the resort, such as basketball, 7 swimming pools, and the use of snorkels and kayaks at the beach. And, if you're lucky you'll catch a glimpse of the monkeys that live on the property!
My favorite Fives experience: Casa de Rosa. This is an add-on experience, but how often do you get to prepare your own dinner of handmade tortillas, guacamole, and salsa? It's an authentic Mexican dining experience, minus the drunk uncle (or at least that's what we were told).
Good to know: Book yourself a spa treatment after your day at Xavage. Trust me on this one. A Swedish massage is a must. You're going to need it!
Age recommendations: All ages! The resort accommodates all ages with children's menus, childcare, and if you want some time away from the kids there are several adult-only places to retreat to.
Every time I visit Mexico I fall more in love with the people, the culture, the food, and the experiences. This trip was no different, as I got to explore a new, adventurous side of Mexico that I hadn't experienced before. A side that pushed me out of my comfort zone in the best possible way. A side where you will undoubtedly beat the winter blues away. So grab your family and book your Mexican adventure soon!
Accommodations at The Fives and activities at Xavage and Xplor were all complimentary for the purposes of this review. All opinions are the author's own.
✈️🚗🚂
Looking for more family travel inspiration from parents just like you?