Yellowstone Park has been on our family bucket list for years, but in the past our schedule hasn't allowed for the time to make the trip with two kids typically in sports most of the summer.
So when the national parks re-opened after the shutdown, we felt there was no better time to hop in the car and head for Wyoming, especially when I heard the number of park visitors was about 10 percent of a normal summer because of the pandemic.
Our tween is just hitting that age of not always wanting to vacation with us, so I planned our itinerary to be a mix of activity and sightseeing. I made sure to include epic adventures he couldn't wait to share with his friends.
Here are my tips and itinerary suggestions for a 5-day trip through Grand Teton National Park and Yellowstone Park to see the sights and include some outdoor adventure:

Before you arrive:
1. Download the park apps
You should download both the Grand Teton and Yellowstone National Park apps and click the option to "make available when offline." Cell service is slim to none in the parks, so these apps were lifesavers and helped us find fun stops along our drive! Have your teen/tween download it too so they can help pick spots to stop and explore.
2. Purchase bear spray
It costs over $50 around the park, so save some money and get it from a local store in your hometown.
3. Think about pictures
Get a good pair of binoculars and a tripod for them. Many of the animals are too far out to see well, so having a tripod can really help to stabilize and see animals better. Also consider purchasing a "spotting scope" attachment for smartphones to help your teen capture the best photos for social media posts.
4. Bring walkie-talkies
There are numerous "spotters" around the parks who use walkie-talkies to tell what animals they see and where. Scan the stations when you're out looking for wildlife. We put our tween in charge of the walkie-talkie and he loved listening in and navigating where we went to find the wildlife.

Our day-by-day adventure:
Day 1: Grand Teton National Park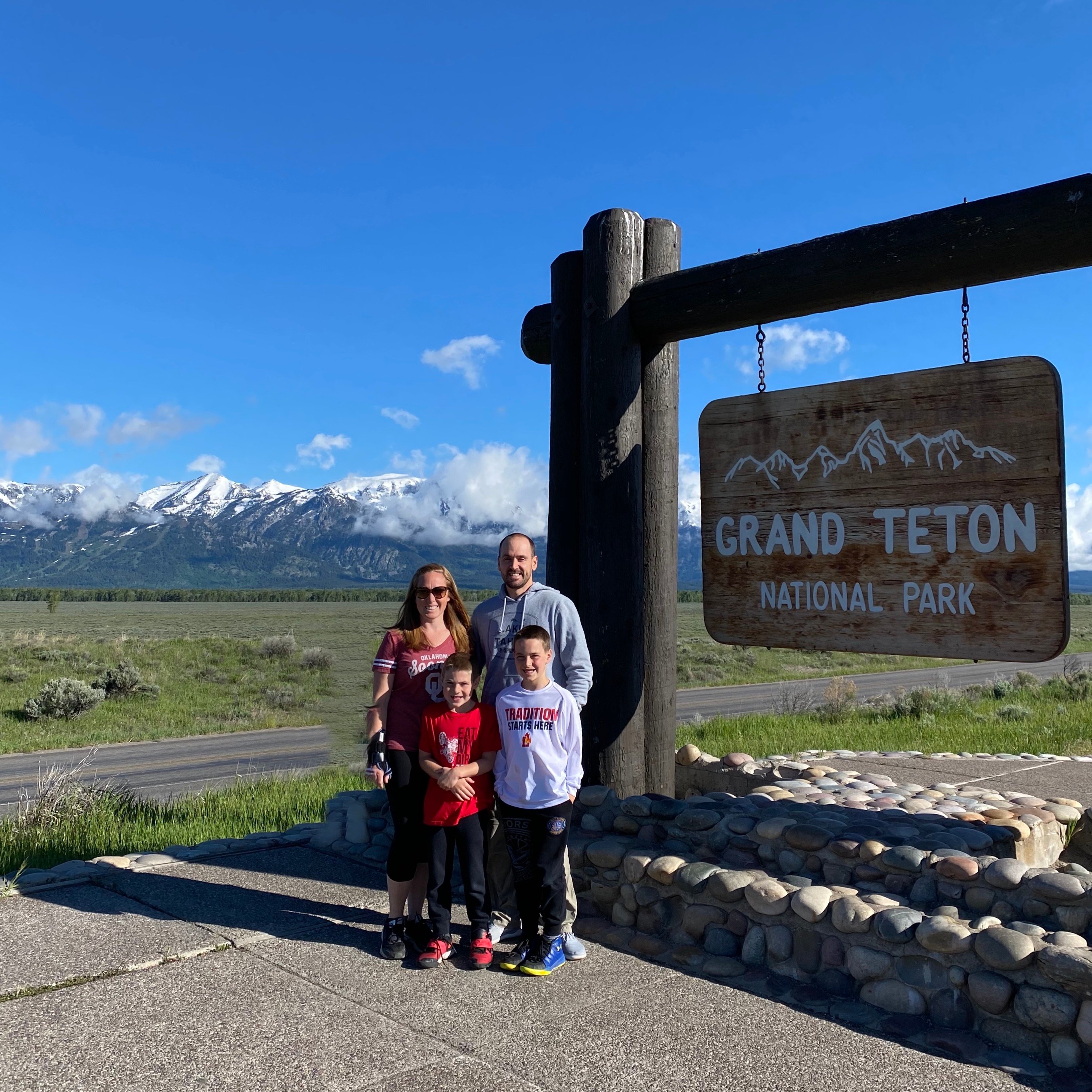 We started our day in Jackson, Wyoming, at Snow King Mountain. After a day of travel, this place is awesome for outdoor adventures with the Teton Mountain Range as your backdrop. Activities include the Cowboy Mountain Coaster, mini-golf, treetop adventure, Amaze'N Maze, Alpine Slide, and more! There is fun for the whole family.
We grabbed lunch in downtown Jackson. Some delicious restaurants we enjoyed included Liberty Burger, Snake River Brewing, and Hand Fire Pizza. Be sure to visit the downtown square too!
We spent the afternoon exploring Jenny Lake in Grand Teton National Park. Jenny Lake is about a 30-minute drive from Jackson. There is a shuttle boat that will take you to the other side of the lake where you can hike to Hidden Falls, and then continue to Inspiration Point (1 mile total each way). Moose, pronghorn, and fox are frequently seen in this area from Jackson to Jenny Lake.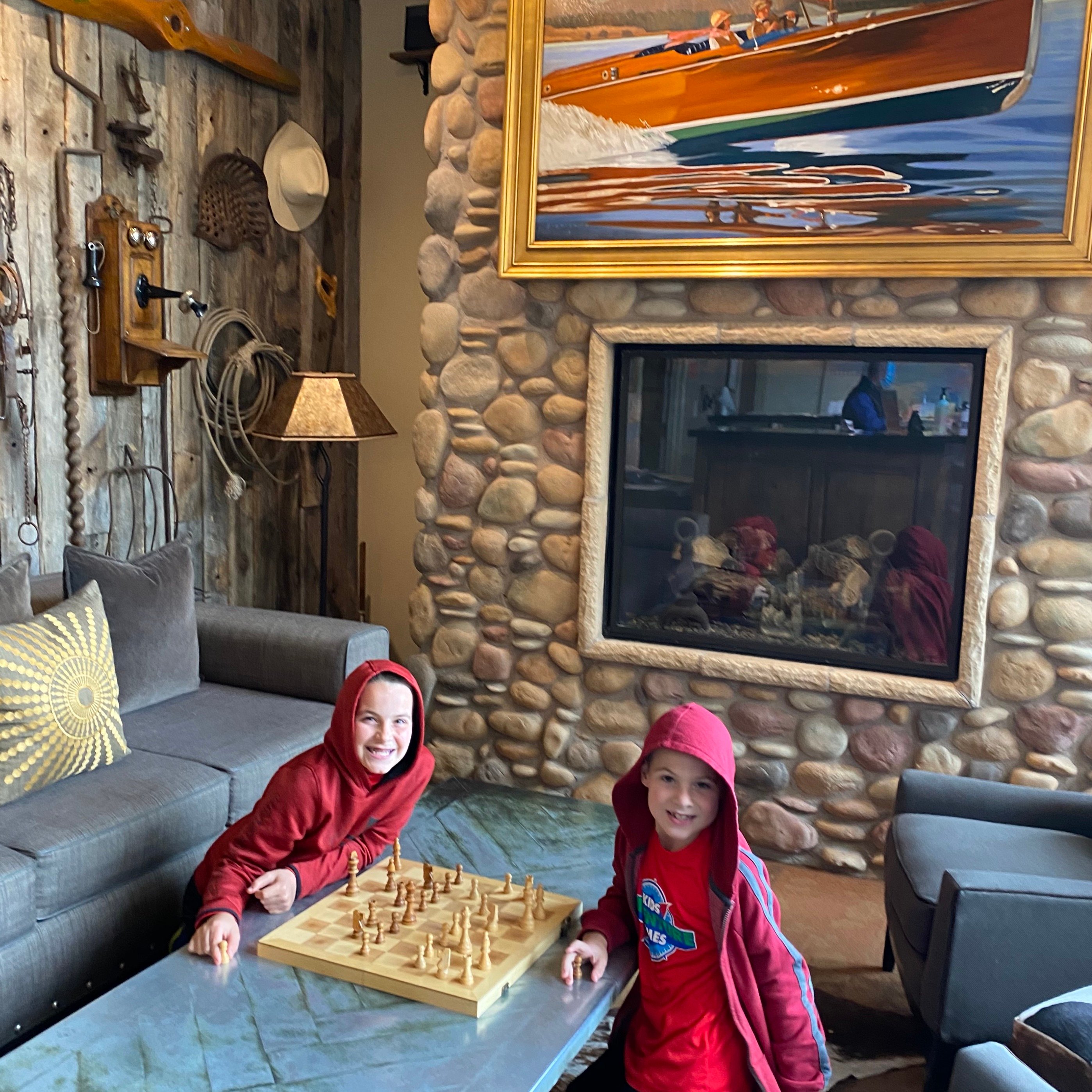 We stayed at The Lexington Hotel, a luxury hotel at affordable prices in the heart of downtown Jackson.
Read more details about our day here and see all the photos from today's activities.
Day 2: Grand Teton National Park

We started the day with a DIY wildlife safari near the town of Wilson. The backroads are full of moose, so beware of them crossing the road while you're driving! We saw pronghorn, moose, and bison on our safari.
Afterwards, head north toward Jackson Lake and use the Grand Teton National Park app to find stops that interest your family. There were bison and elk throughout the fields. You might even spot some grizzly bears!
Find a picnic spot on the app to enjoy a lunch, or head back to town to one of the great restaurants there.
Want an adventure? You can book a white water rafting trip, a scenic float, horseback ride, fishing tour, or rent some e-bikes and take a ride. Here are a full list of options for activities within Grand Teton National Park.
Looking for free activities in the park? Check out 10 free activities here.
Read more details about our day and see all the photos from today's activities.
Day 3: Grand Teton National Park to Yellowstone
We had booked a room at Three Bear Lodge in West Yellowstone for the next three nights, so we left Grand Teton National Park and headed to Yellowstone National Park.
There was more wildlife viewing along the drive, and around Jackson Lake we had a grizzly sighting! If you're on the hunt for wildlife, keep an eye out for large groups of cars stopped on the road. The locals and the visitors are all happy to share what they've found.
We took a break at Colter Bay Visitor Center where we got some great photos of the Teton mountains.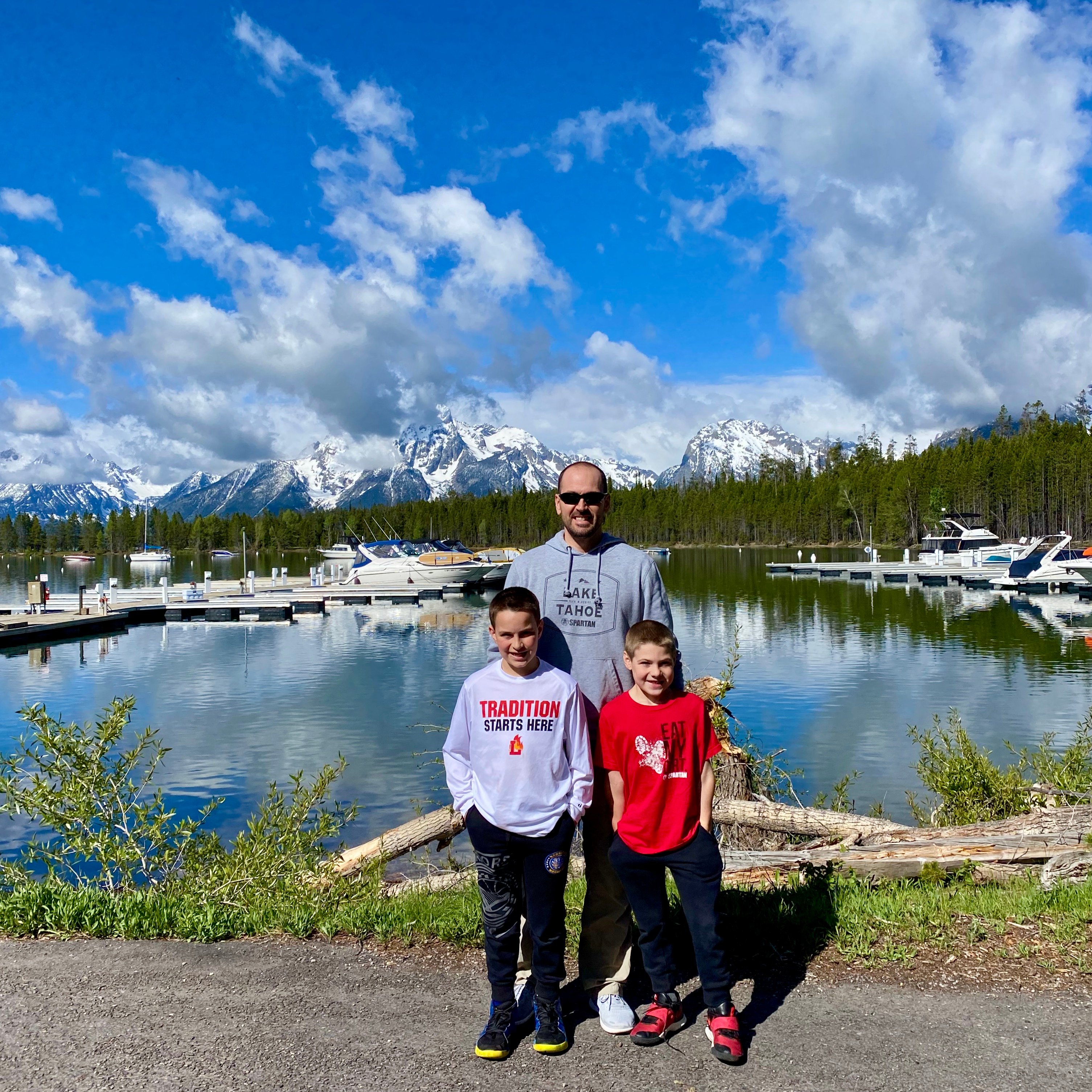 Once we entered the park at its south entrance we stopped at Old Faithful. The Yellowstone National Park app will tell you the predicted time for the next eruption. Get your seats about 15 minutes before the predicted time. It goes off every 60 to 90 minutes, so if you get there early, enjoy some lunch in the cafe or browse the gift shop and visitor center.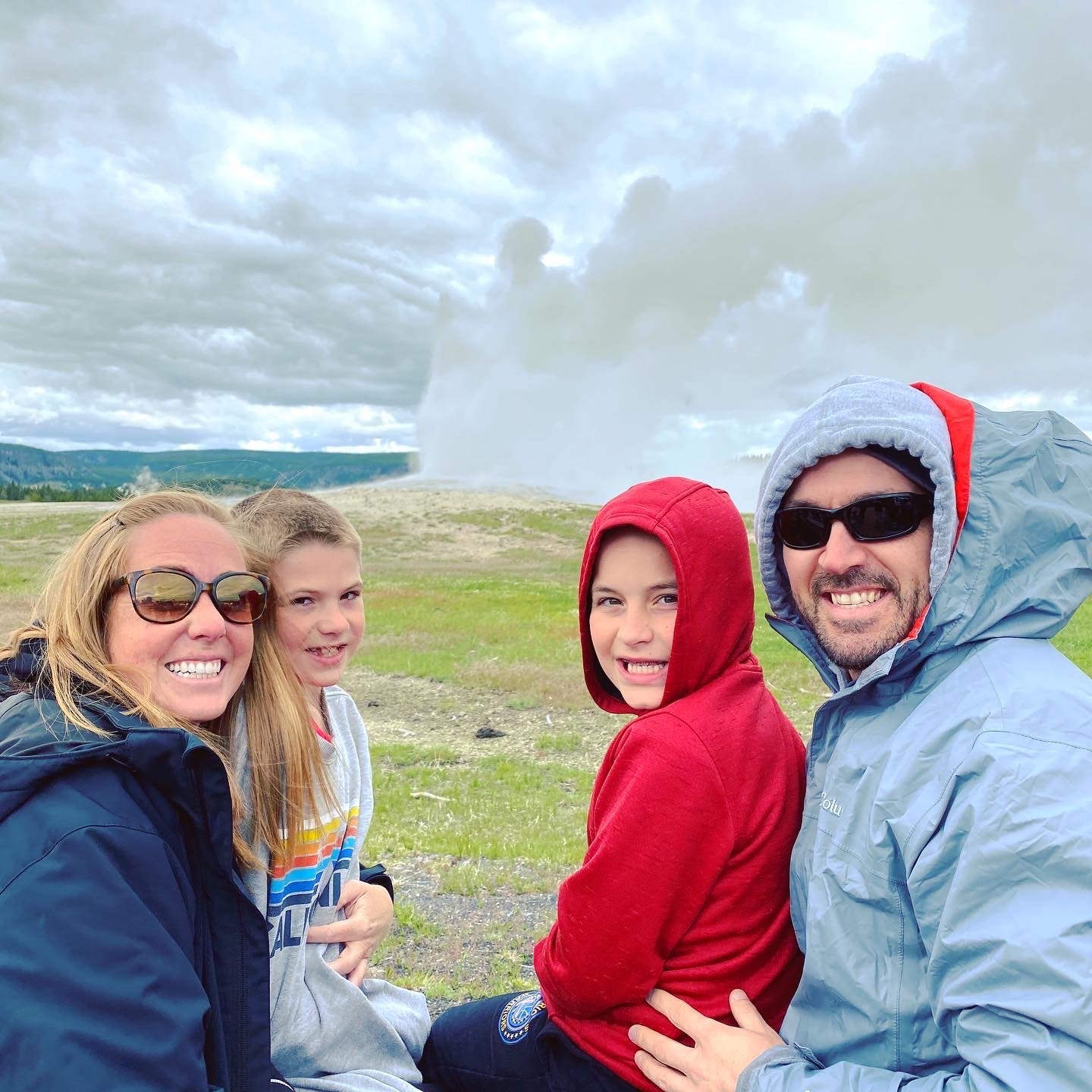 Afterwards, we explored the Black Sand Basin for more unique geysers, then went hiking at the Fairy Falls Trailhead. We followed the trail to the Grand Prismatic Spring overlook for a stunning view and amazing photo opportunities. We also stopped at other interesting spots like Fountain Paint Pot, Great Fountain Geyser, and Firehole Canyon Drive.
There are numerous hotels, motels, cabins, and RV parks in West Yellowstone. The town is built for tourists and has an adorable downtown with shops and great food. What teen doesn't love good food? Our tween son's favorite was the Las Palmitas Taco Bus (yes, a full taco stand and dining in a bus ... it might have been one of his favorite memories!).
Read more here about our day's adventures and see all the photos from today's activities.
Day 4: Yellowstone National Park
What I'm about to say may sound like an awful idea, especially with a teenager, but I promise you'll thank me. Set your alarm for 4 a.m. and get on the road to Lamar Valley before the sun is up!
The best wildlife experiences happen at dawn and dusk, so if you want to see ALL the animals, you have to get up early. Your sleepy teen will quickly perk up when a bison herd is within feet of your vehicle!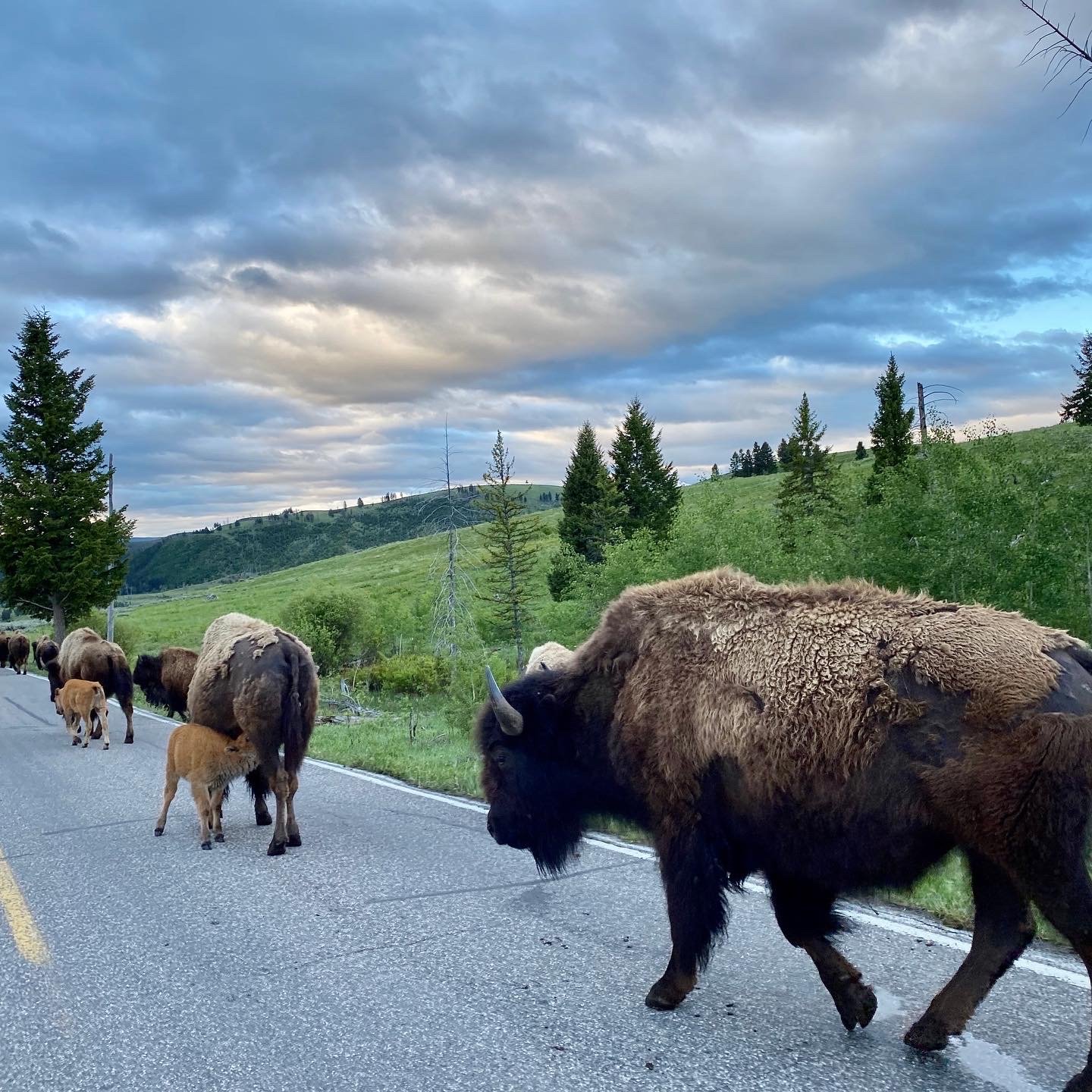 The drive is about 2 hours to Lamar Valley and you'll have the opportunity to see bears and wolves, along with bison herds, elk, deer, coyotes, and so many more animals. Again, look for the cars on the side of the road and join the viewing party. This is a great time for those walkie-talkies so you can listen for where the spotters are finding the animals.
As you drive back toward West Yellowstone, you can stop at Mammoth Springs for breakfast or snacks (and a coffee refill!) at the cafe. Walk the boardwalks and view all the amazing geological displays!
We spent the afternoon exploring downtown West Yellowstone. We enjoyed the Grizzly and Wolf Discovery Center. There's even an IMAX Yellowstone movie that gives a great history of the park and is entertaining for all ages.
Read more about our day's adventures and see all the photos from today's activities.
Day 5: Yellowstone National Park
We saved the best for last … the Grand Canyon of Yellowstone! You can experience the canyon from a variety of overlooks, taking in the amazing geological history and hydrothermal features along with the upper and lower falls. There are a few different hike options as well through the canyon. Artist Point is the best place for that family photo!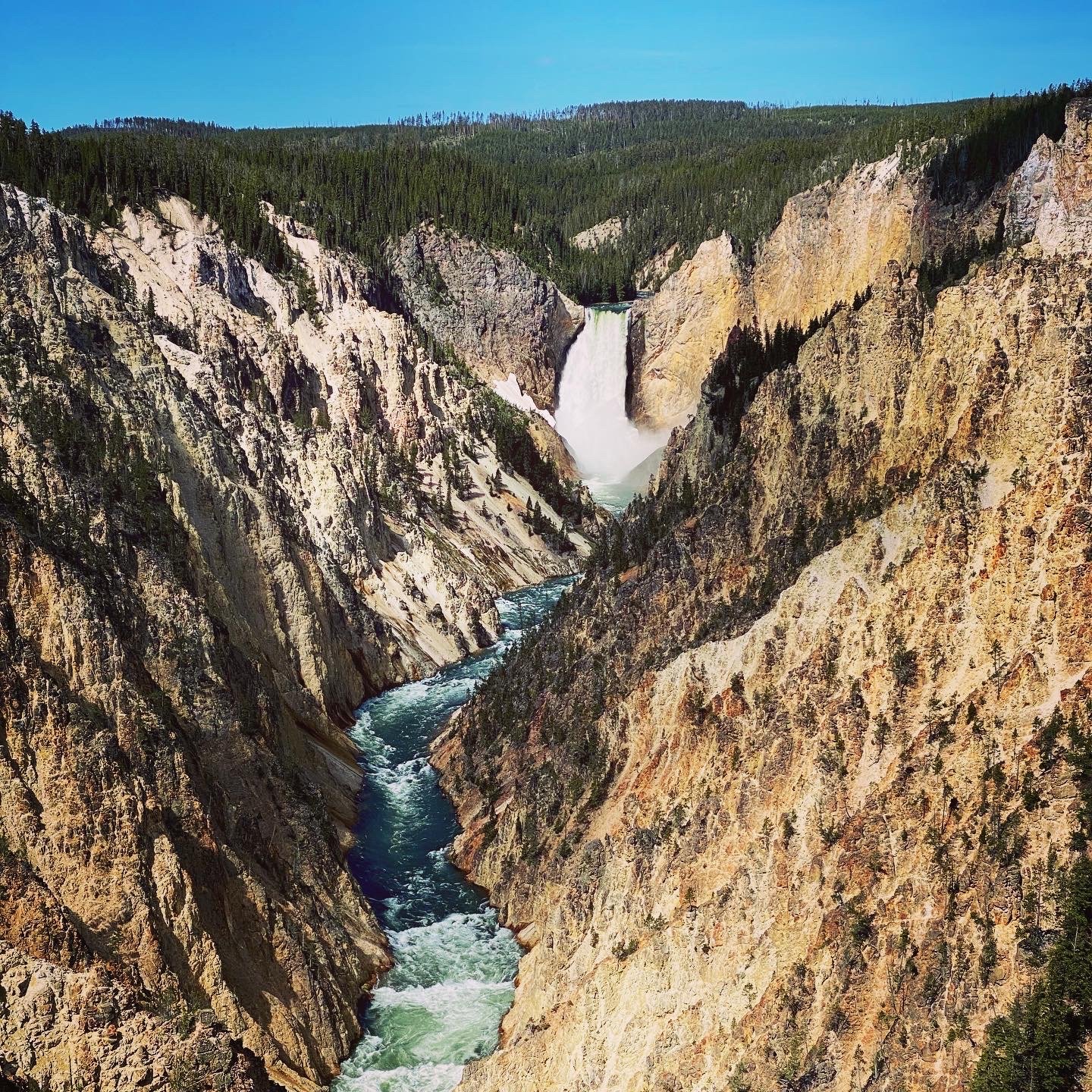 Finish off your trip with an adventure at Yellowstone Aerial Adventures. We did the 2-hour ZAP pass and it was the perfect amount of time for the high ropes course and zip lines.
Read more about our day's adventures and see all the photos from today's activities.
Every trip to Yellowstone will be different and amazing in its own way. Make it your own and enjoy the beauty of nature. Now to figure out how to fit ALL the photos into one photo book!