It is so hard to get away as a mom but once you do, it is SO worth it. Even 24 hours can do wonders.
I have two old friends, Becca and Lisa, who live in NY, who I don't get to see very often. So we decided to make a summer trip happen. I live in Maryland, so we decided to pick Philadelphia as our destination because it is centrally between us and easily accessible by car, train, and bus. The city has a lot of great things to do and we were all excited to explore over our 24-hour window, while at the same time just enjoying being together, catching up on life, and reminiscing about old times.
---
The author received a complimentary stay in exchange for a review. All thoughts and opinions are her own.
---
We decided to stay at Kimpton Hotel MONACO Philadelphia, right in the heart of the historic Old City. I drove in from Maryland. It was easy to drive into the city and valet my car at the hotel. I was immediately drawn in as the hotel is gorgeous and feels luxurious.
What I liked about the hotel for this type of trip, in particular, is we could get 2 rooms in a corner. One room had a sitting area with a big couch, allowing us to chill out in that area together. We had a terrific stay at the Hotel Monaco overall, and I would highly recommend it for any trip to Philly!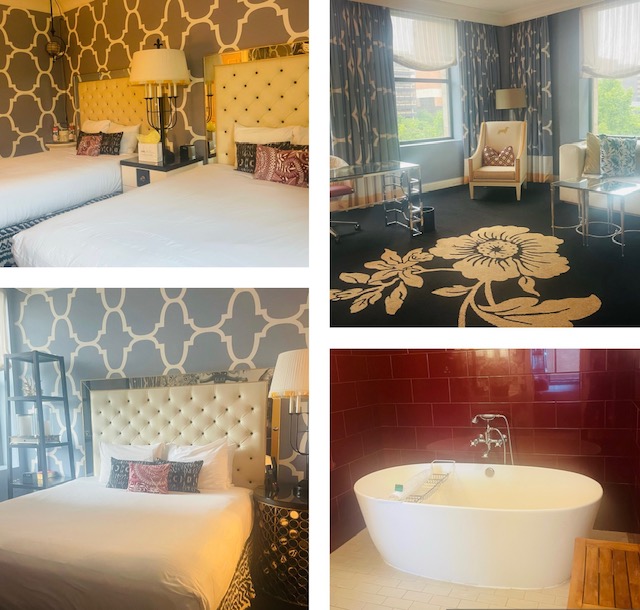 We arrived around 2 pm, grabbed a quick bite to eat, and decided day #1 would be our shopping day. Our favorite store is Anthropologie, and it turns out their flagship store is located in Rittenhouse Square, so we started there. The store is located in a stunning building. We then did a bit more shopping, where my big highlight was a Bloomingdale's Outlet. I love a good deal!
After shopping, we headed back to the hotel (unfortunately missing the complimentary happy hour) and got dressed up for dinner, hung out in the beautiful lobby, and then headed to dinner at a sushi place around the corner called Fat Salmon. It was so incredibly nice to enjoy a delicious dinner and unwind without interruptions from our daily lives.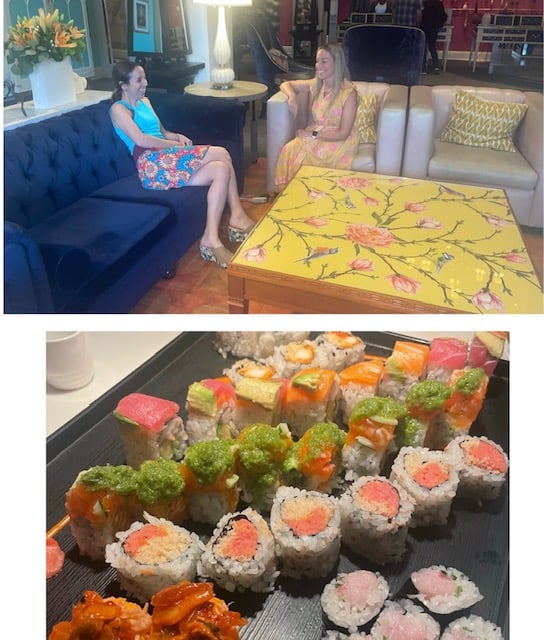 We got up bright and early to make the most of our 24 hours. We were pleasantly surprised by Hotel Monaco's complimentary coffee bar! It even had iced coffee and flavoring. Impressive!
Lisa and I then went running down by the water. There was so much to see, and it was a nice run. We ran together all through our 20s, so it was like old times and so fun to chat away while enjoying seeing another piece of the city.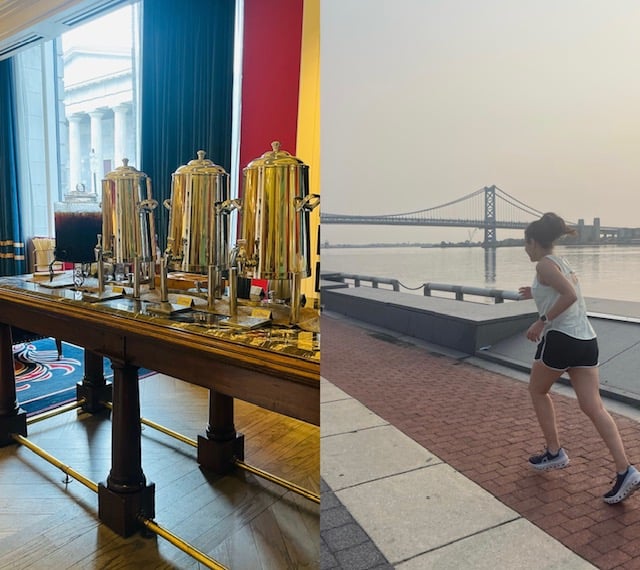 We came back to the hotel to meet up with Becca. She was dying to reenact the Rocky stairs run at the Philadelphia Museum of Art steps. We walked there and stumbled upon the Liberty Bell, Love Park, and other sites on the way.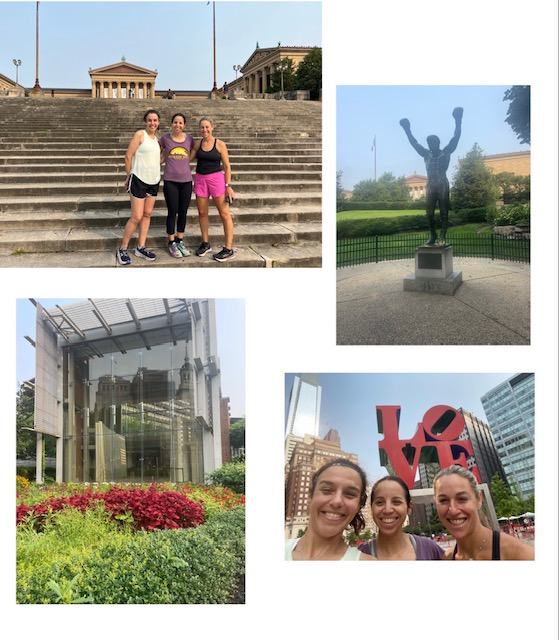 We took a quick Uber back to the hotel after our morning exploring and had a yummy brunch at the hotel's restaurant Red Owl Tavern. The waiter told us about the Pork Roll that Philadelphia was known for, so we ordered a side to try. It was absolutely delicious. I highly recommend trying it. We enjoyed our brunch as Red Owl Tavern has a really fantastic menu!
With an hour to spare, we headed to Redding Terminal to check out the popular market and get some goodies for the journey home. They had stalls and stalls of different foods and treats. We picked up some cookies from Famous 4th St. Cookie Co. which had some really unique flavors.
And just two and a half hours' drive later, I was home feeling all the feels from being with these amazing friends for 24 hours.
Make the effort, make the memories … even if it is just for a day! We need this more than we sometimes realize as moms!
Jamie Ratner is Macaroni KID's CEO.