I had never been to a wellness resort before but heard rave reviews from friends about the new Miraval Berkshires Resort & Spa that opened in 2020 in Lenox, Massachusetts. It has been a very stressful 2023 and I decided that Brian and I needed this type of trip for our summer getaway when the kids were away.
---
The author received a complimentary stay in exchange for a review. All thoughts and opinions are her own.
---
'My Happy Place'
This resort is my Happy Place between the setting and vibe, to the activities and incredible food. I felt like I was in complete heaven at Miraval Berkshires Resort & Spa from the moment I entered through my entire two days. The vibe feels so relaxing with the spa-type music throughout the property that puts you at ease. They encourage you to put away your cell phones. You will notice people reading their books or sitting at cute little tables working on puzzles. There are inspirational quotes all around. As the hours you spend here tick along, the body and mind just begin to relax and reset.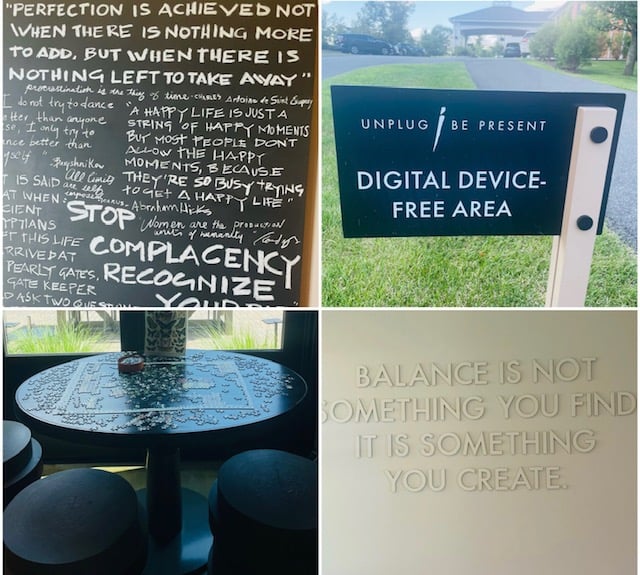 So let's start with the basics. Miraval Berkshires Resort & Spa is a wellness resort where they want your time there to be inspiring, enriching, and transformative—whatever that means to you. It is all-inclusive for pretty much everything, including all your meals, activities, and spa treatments. What is also amazing is that it is a no-tipping property, so you never feel uneasy or have to worry about carrying money around. The only thing that is not included is alcohol. The great part is that they have the option of alcohol, as many wellness resorts do not even serve it.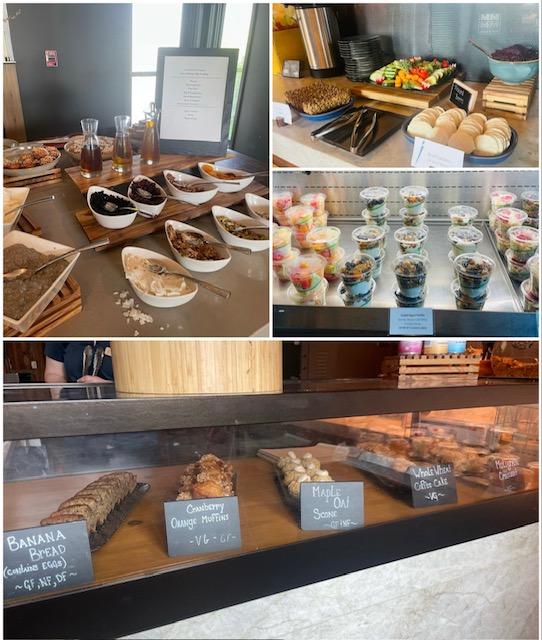 Year-round beauty and access
There are many options to get to Miraval Berkshires Resort & Spa, depending on where you are coming from. They offer shuttle service from Bradley Airport and Wassaic Train Station. We flew into Albany and drove an hour from there. After our stay, we planned to drive to New Hampshire for our kids' visiting day weekend at camp. It was all very accessible and easy. The property is gorgeous, with tall trees and green grass. I could see how lovely it could be to come no matter the time of year. Even in the winter, you could enjoy yourself and keep busy inside with the spectacular views.
Going with Brian, I was not sure if he would feel comfortable because most of the people I knew who had been had gone in packs of ladies as a "moms getaway." However, we were pleasantly surprised that that that was not the case. There were many couples, mothers/daughters (the resort is adult-only for 18-year-olds and up, by the way), groups of women, and then many single people, which was quite interesting. It is a great place to go alone and give yourself time to focus 100% on yourself. I want to return and do this at some point in my life.
'The best food'
I need to start off with the food (because, to me, this makes or breaks a vacation). Personally, this was the BEST food situation I could have dreamed of. I love healthy, clean, fresh, nutrient-rich food. Not only was it all that, but it was utterly delicious. I could go on and on about every morsel I ate and share 100 pictures but I know not everyone is as into food as I am. This was just so unique to be able to have an all-inclusive where I can get incredible green juice and egg white bites on demand and I can leave a resort feeling great as opposed to bloated!
So there are a few ways you can eat. The first is a grab and go café called Roost. There is a barista there who can make you fancy coffee drinks, smoothies, and juices, and give out healthy treats, and grab-and-go foods like salads, breakfast sandwiches, and wraps. They put out veggies to snack on in the late afternoon with yummy dips. Oh, and they even have a machine to fill up the water bottles they give you that serve your choice of flavored still or sparkling waters. So cool! I could live at Roost.
Next is a restaurant on site called Harvest Moon that serves breakfast, lunch, and dinner. They offer a super impressive buffet for breakfast plus a menu you can order off a la carte. We never made it to lunch because we were so busy. For dinner, you ordered off a menu and I had the lamb loin, which was unbelievable.
Another meal option at Miraval Berkshires Resort & Spa is a paid option which we did for our first night (I believe you are allowed one paid activity a day, so this was the one we selected). It is the opportunity to have the chef cook the meal in front of you and another couple. It was amazing to learn from the chef and get treated to such a delicious and healthy dinner. He shared with us the history of the resort and his cooking techniques. It was a nice experience and the couple we were with was there for a week, so they felt it was a nice way to change up the meals.
Lastly, Miraval Berkshires Resort & Spa offers room service (the cost is $20 per time you use it for as much as you want and no actual cost for the food) but we never had a chance to try it.
Amazing activities, classes
Now onto the activities and classes. Your mind will be blown by the variety and number of classes Miraval Berkshires Resort & Spa offers. I wish we had a week just to try them all. There truly is something for everyone. I think some people look for a variety, and others may want to just focus on educational, physical, or outdoor experiences.
I loved how it felt like we were in summer camp going about our schedules. In a day, you could be doing as many as ten activities if you did one every hour! Many people seemed like they had been working on their schedules months before arrival to make sure they got into all the classes they wanted. Brian and I had not done this until a couple of days before. Rookie mistake! As soon as you can, book your stuff!
Here is a very small example of some of the classes available (minus their fun fancy names):
Cooking Classes - smoothie making, bone broth, coffee, garden tour, creative cake decorations
Outdoors - hiking, canoe trips, paddle boarding, Hatchet Throwing, Warrior Challenge on the climbing/adventure courses
Exercise - aqua cardio, barre, pilates
Education - Journaling, astrology expiration, memory power
Animals - Chicken Keeping, donkey discovery
Art - Pottery, painting
Mind and body- Floating meditation, meditation for sleep, remedies for healthy hair
On our trip, we did together the Mahanna Cobble Hike, kickboxing, yoga, and aerial pilates. My favorite class I did alone was Cardio Drumming and Brian's favorite was floating meditation!
Finding serenity
Outside of activities and classes, there is a gorgeous and serene pool where you can lounge and relax. There is pool service as well at Miraval Berkshires Resort & Spa and it is a nice option between the activities, meals, and spa to lounge in the warm months.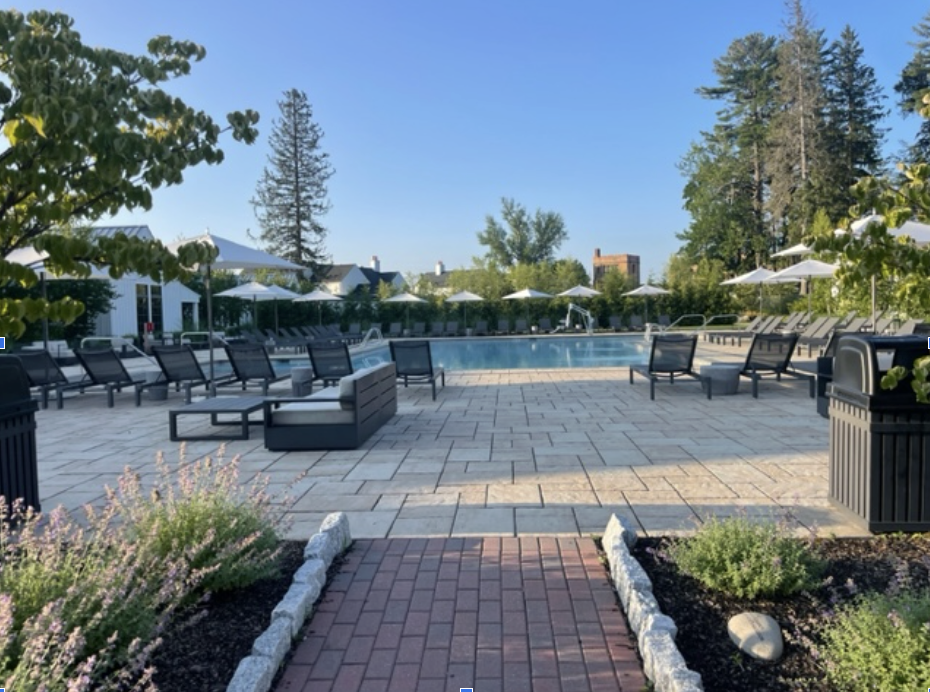 In the cooler months, there is an incredible indoor lap pool. I was actually so impressed I went in to do some laps. It was just fantastic. There is also a great gym that I ended up doing some cardio on as well at one point during our stay.
And the shopping!
Oh, and I cannot forget the shop at Miraval Berkshires Resort & Spa. They have the most awesome boutique I have ever visited at a hotel. It is packed with amazing brands like LuluLemon and Vuori and great items. I got a dress for only $50 that I will live in this summer.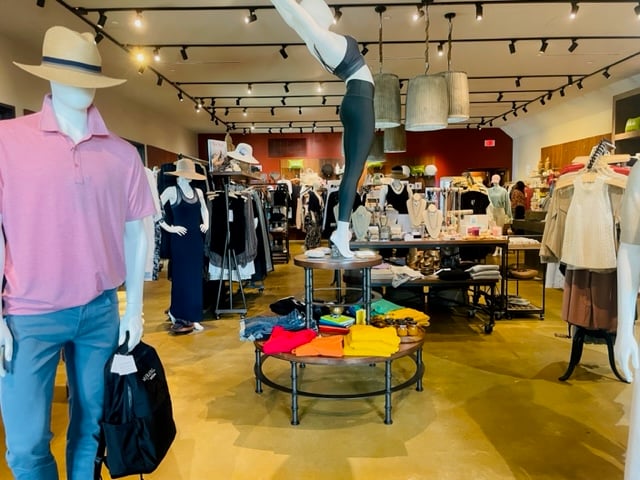 Spa-licious
Next to the spa. I believe everyone gets one spa service a day included in their packages. This is such a treat. The spa is awesome. There are different rooms for relaxing which include a sauna, steam room, and outdoor relaxation rooms. There are so many treatments to pick from. Brian and I each had a deep tissue massage and a restorative facial.
My favorite part is that once you have your treatment, you can walk around the property with no insecurity in these luxurious, plush robes they provide you in the spa. I met Brian after my 6 pm facial for dinner in my robe and that is heaven for me. True heaven!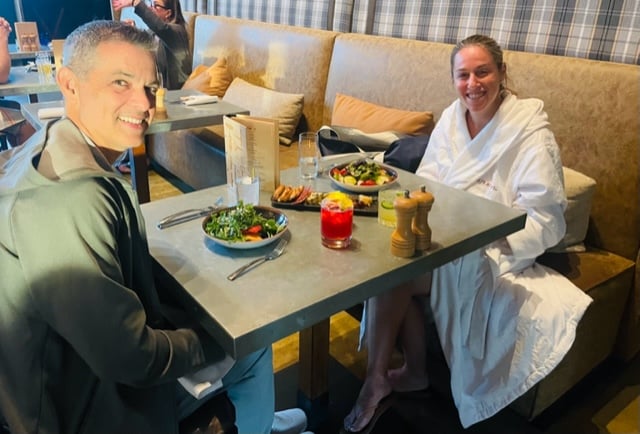 A bed you won't want to leave
Lastly, the rooms. I have to say our room was not luxurious but was pretty basic (which was fine since we were barely in our room). So I would just not walk in planning to feel like the room will be like the Four Seasons or a Ritz, as I think some people would assume this based on the price tag. However, the key to the room was the BEST bed I have ever slept in. You just sink into it and instantly fall asleep. The bedding is just wonderful and we worried we would never be able to get out of bed for our activities in the morning.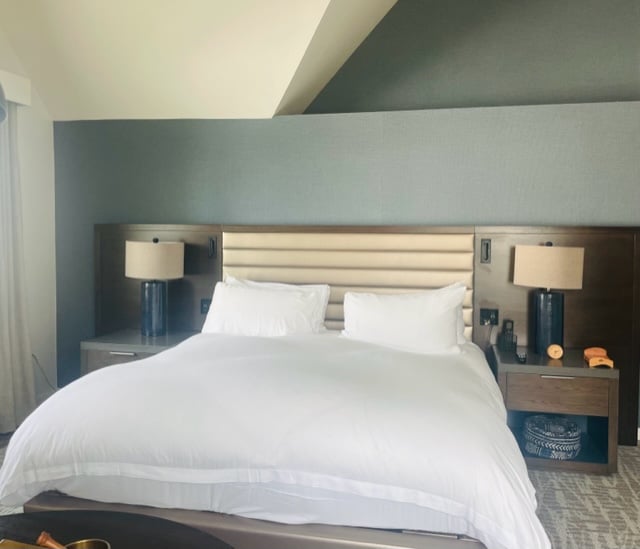 'Set your intention'
I cannot recommend Miraval Berkshires Resort & Spa more highly. Brian and I plan to do this again before our kids' camp visiting day next year. Whether you are looking for time with your partner, friends, or family or need some alone time, it is a must-visit spot. Set your intention and go! Trust me, you'll be thankful you did.
Jamie Ratner is Macaroni KID's CEO.